Plan Your Visit to the Iconic Edge Observatory in New York
Table of Contents
Nested at the westernmost point of Manhattan, gain access to the stunning Manhattan skyline at Edge NYC. Keep scrolling to know more about visiting Edge NYC including the opening hours, best time to visit, highlights to catch, and more!
Edge NYC Opening Hours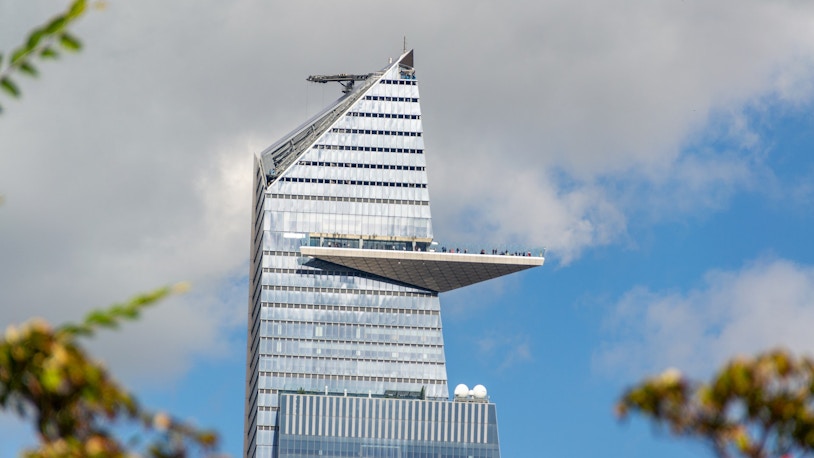 Timings: Edge NYC is open daily from 9 AM to 11 PM.
Closed: Edge is open throughout the year.
Last Admission: The last elevator ride to the top is 50 minutes before closing.
Edge NYC Timings
Best Time to Visit
If you are overwhelmed by the crowds and want to enjoy the view of New York City in a peaceful environment, it is best to visit the Edge at Hudson Yards during the off-peak days and hours as this is one of the most famous observation decks in New York City.
During weekdays, the best time to visit is either early morning or after sunset. Additionally, visitors are less likely to crowd the attraction during the shoulder seasons, like after the Christmas rush and in the spring.
How to Get to Edge NYC?
By Public Transport
Subway: The closest metro station is 34 Street-Hudson Yards Subway Station, which is a 5-minute walk to Edge NYC. You can board metro line 7 to get here.
Train: You can take the 7 Train connecting to Hudson Yards. The A, C, and E train to 34th St. Penn Station and walk two blocks west.
Bus: The closest bus stop is 10 Avenue & W 30 St. This is just a 5-minute walk to Edge NYC. You can board bus M11 to get here. The M 34-SBS and M12 are the other bus lines that stop within a few minutes walk.
Ferry: The Midtown ferry stops at the terminal at West 39th Street and the West Side Highway. You can walk 5 blocks south to get to Hudson Yards.
Taxi: You can hail a local taxi or book an Uber or Lyft to get to the Edge.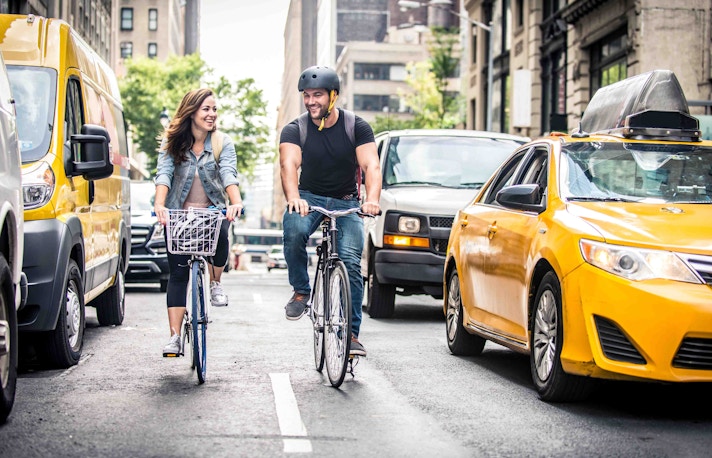 By Car or Bike
Car: You can drive to the Edge NYC at Hudson Yards. Parking is available at 10 Hudson Yards, Abington House, and One Hudson Yards. These are located along West 30th Street's stretch between the 10th and 11th Avenues.
Bike: The route to take if you're travelling by bike is through Hudson River Park along the West Side Highway. The closest CitiBike station can be found at West 34th Street and 11th Avenue at the northwest corner.
Know Before You Go
Facilities
Accessibility
Visiting with Family
Rules & Regulations
Dining
Stay
Nearby
Entrance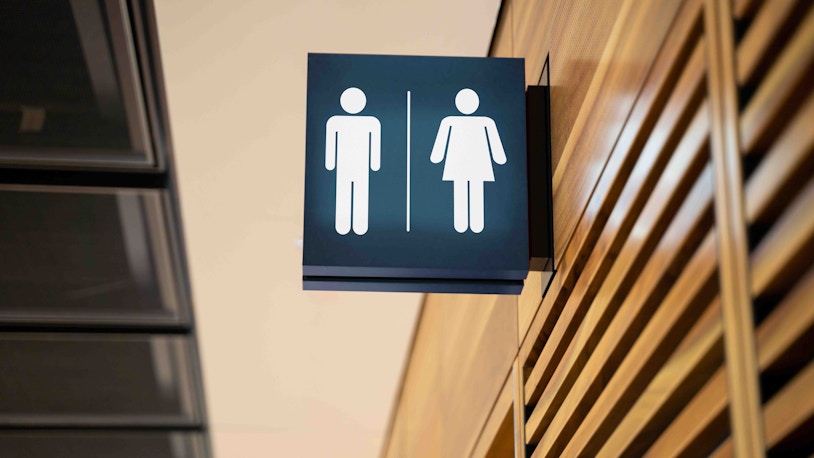 Lockers: Avoid carrying large bags and suitcases as storage and locker facilities are not available.
Restrooms: Restrooms and baby-changing facilities are available at the Edge.
Gift Shop: Souvenir shops are available on Level 4 and Level 100.
Elevator: All guests can access the Edge via a state-of-the-art elevator in just 52 seconds!
Hand Sanitizers: Hand sanitizing stations are available throughout the facility.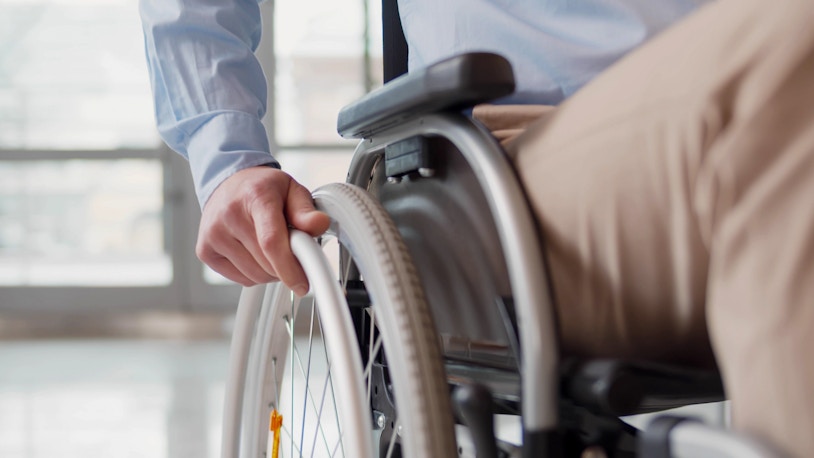 Edge NYC offers an experience that is accessible to all with elevators and ramps for those who need them during their visit. Guests who require assistance with auxiliary aids or wheelchairs, or other services can contact Guest Services at (332) 204-8500 or info@edgenyc.com in advance for additional assistance.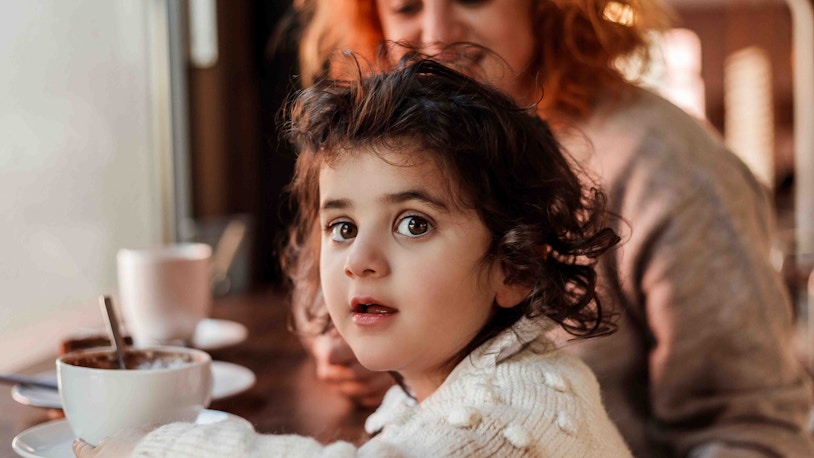 Strollers are allowed inside the Edge but make sure you fold them up before getting into the elevator.
Kid-friendly restrooms and washrooms including baby-changing facilities are available inside the attraction.
The City Climb is suitable for children who are 13 years and above. Children between 13 to 17 must be accompanied by an adult.
The Champagne Bar has a range of kid-friendly drink and snack options.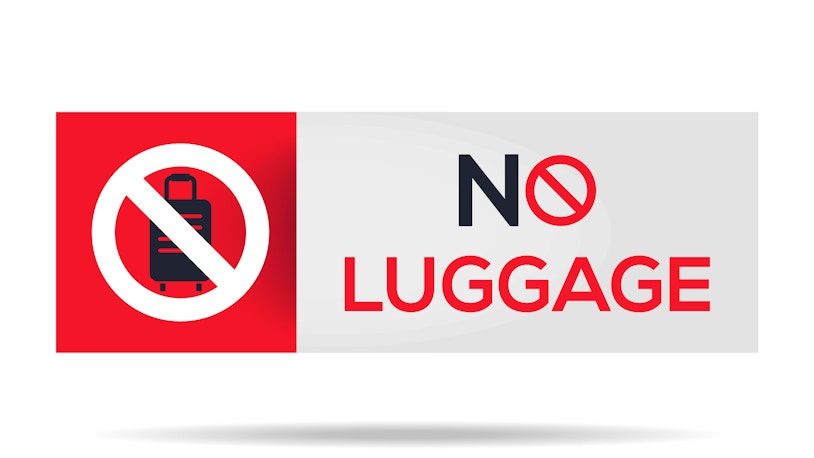 Strollers are allowed inside but you will have to remove your child and fold your stroller to access the elevators and escalators within the Edge experience.
Normal-size backpacks and bags are allowed at Edge. Large bags and luggage are not permitted as there are no lockers or storage capabilities at the Edge.
Photography is permitted at the Edge for private use only. Professional photographic equipment, video cameras, tripods, lights, and other types of equipment are not permitted.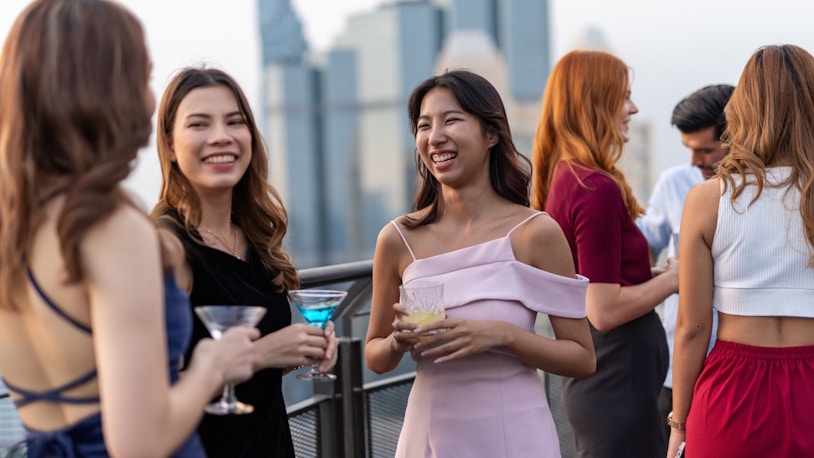 Outside food and drinks are not permitted at Edge, and water in clear plastic bottles is allowed. Glass bottles are strictly prohibited.
There is a Champagne Bar that offers an assortment of snacks and beverages with a stunning view of New York City. For the full champagne bar menu, you can check here.
Edge NYC Restaurant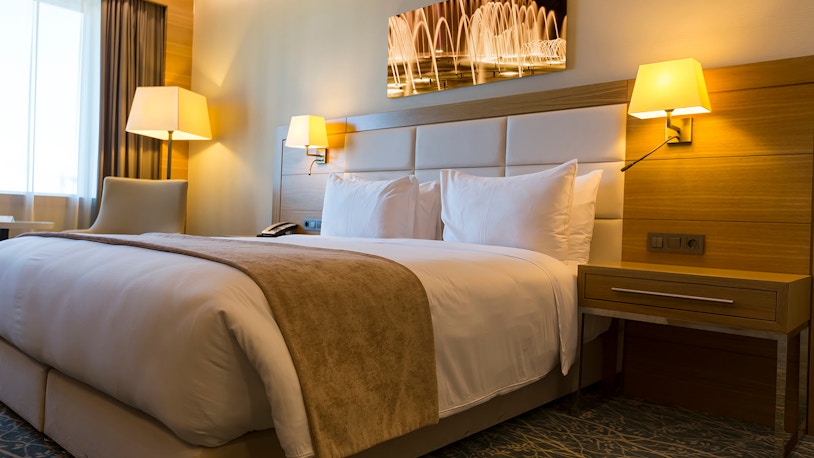 Budget:
Four Points by Sheraton Manhattan Midtown West: This hotel is located just 2 blocks away from Javits Convention Center, Subway line 7 as well as the Lincoln Tunnel, The Shops, and Restaurants at Hudson Yards.
Mid-Range:
Pendry Manhattan West: Pendry Manhattan West allows easy access to Midtown's expanding neighborhood and its array of attractions, with some of the finest shopping, dining, and cultural experiences in New York City.
Luxury:
Equinox Hotel New York: Equinox Hotels is a place that matches the scale and is a space to restore and regenerate.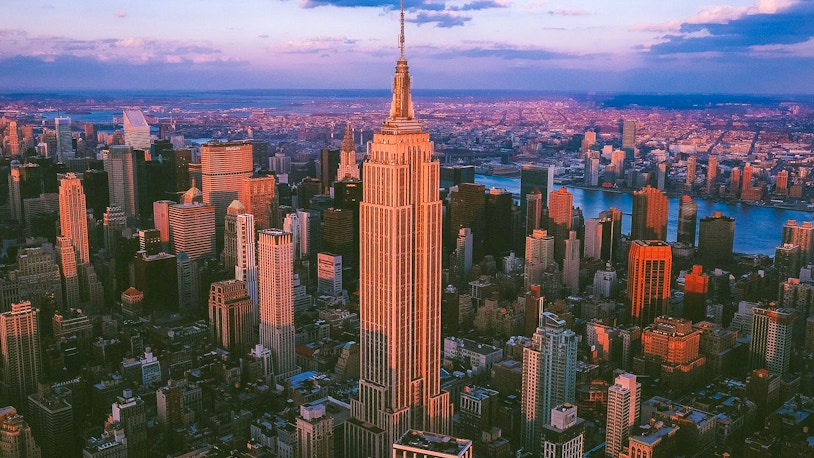 Empire State Building: The Empire State Building gives visitors unparalleled panoramic views of New York City, historic Art Deco architecture, and the chance to experience one of the world's most iconic landmarks.
Rockefeller Center: The Rockefeller Center is known for its iconic status as a symbol of New York City, stunning views from the Top of the Rock observation deck, and a wide range of entertainment, shopping, and dining options.
The Museum of Modern Art: The Museum of Modern Art is home an impressive collection of contemporary and modern art from around the world.
Things to do in New York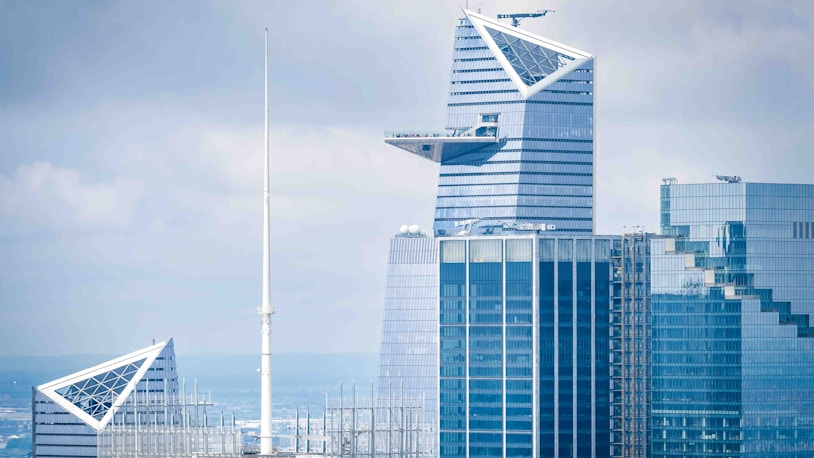 Edge NYC is situated at 30 Hudson Yards on the west side of Manhattan, along the Hudson River. The main entrance to the building is on the corner of 10th Avenue and 33rd Street.
Things to Do at Edge NYC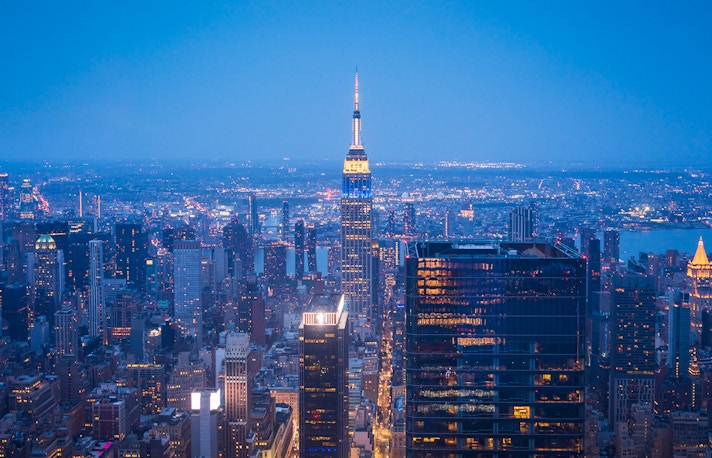 360-degree Views
Head to the Edge and soak in the great views of the New York City skyline from a 360-degree perspective. You can admire iconic sights such as Madison Square Garden, Central Park, Ellis Island and so many more. Enjoy views of New Jersey across the Hudson River.
View from Edge NYC
Outdoor Observation Deck
The Observation Deck and its views are the main reason to visit the Edge. Suspended more than 1,100 feet above ground level and spanning 80 feet straight out into the air, you get the feeling of stepping out into the sky. Look over lower Manhattan and midtown, the Hudson River, the Statue of Liberty, and more from the Observation Sky Deck of the Edge.
Edge Observation Deck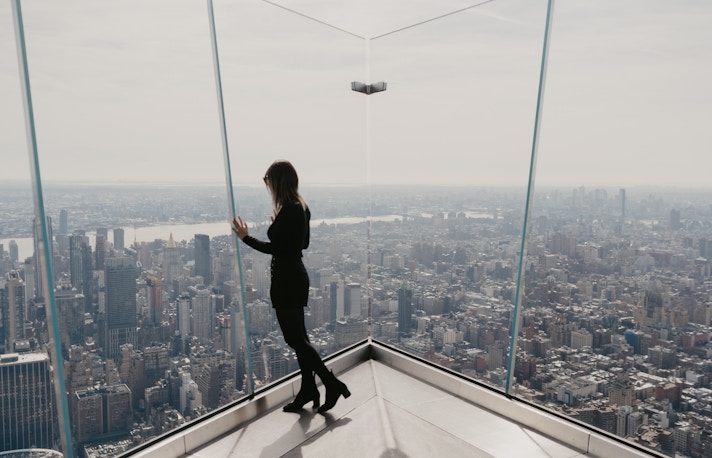 Angled Glass Walls
Enjoy the thrill of leaning out over the edge with the entire New York City right under you. The angled glass walls are frameless glass panels that are boldly angled outward to give the outdoor deck a look and feel that is never seen before.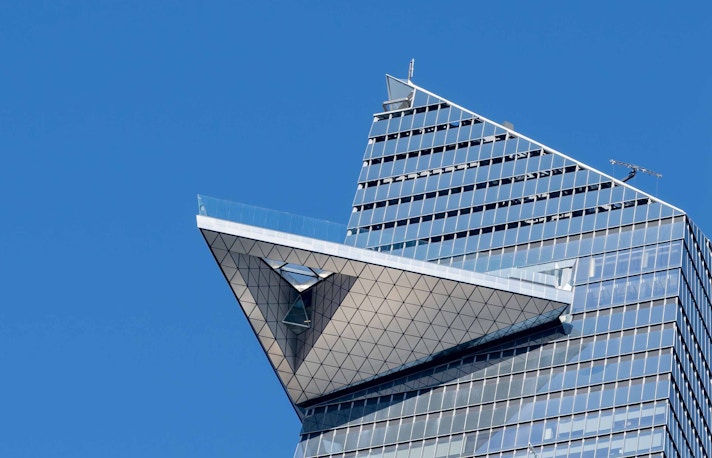 Glass Floor
It is usually noticed that a huge crowd is often seen hovering around the glass floor of the observation deck. This glass-paneled floor is a highlight as you can stand over these panels with just 1000 feet of air below you! Watching the city streets right below your feet can be unnerving yet thrilling. This is a great place to capture stunning photos!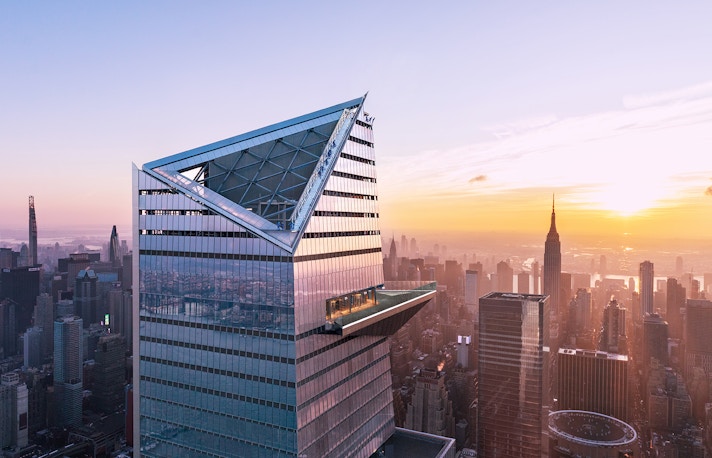 Skyline Seats
The Skyline Seats provide an even better and higher view of the New York City skyline from the outdoor seats. Take a seat with your friends and family and look out over the top of the glass panels and past the edge of the observation deck. Soak in the great view and get a chance to hang out in the sky, quite literally!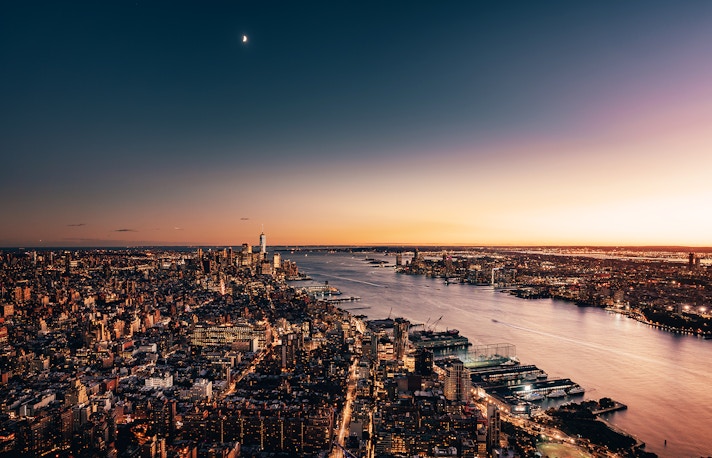 Eastern Point
Here is a chance to feel New York like never before, where you will stand by yourself at the Eastern point surrounded by nothing but glass, sky, and thin air. From this point, you are on the far edge of the Edge. Enjoy spectacular views and click great pictures with your loved ones.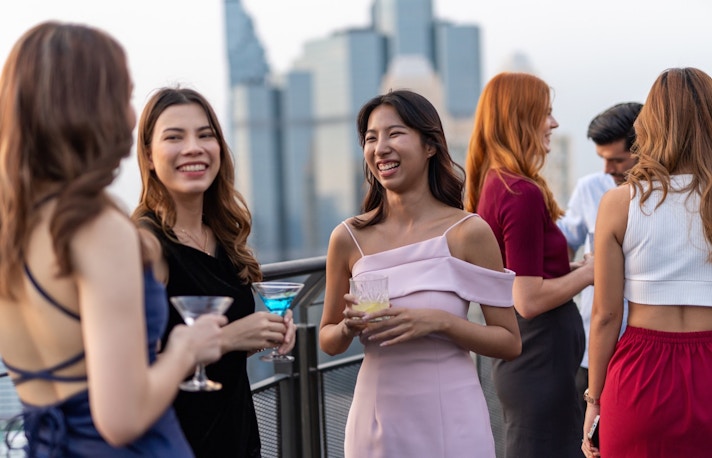 Champagne Bar
Located inside on the 100th floor of the building, the Champagne Bar allows you to sip a great glass of cocktail/champagne in the sky, with light food service. During the peak hours, you can find a champagne bar even on the 102nd floor as well as on the sky deck. Alcoholic drinks and snacks are available for purchase but are slightly pricey.
Dining at Edge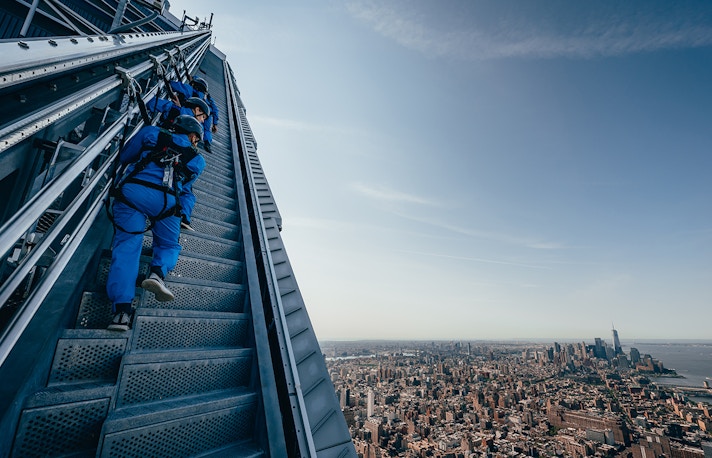 City Climb
The City Climb NYC is an experience where you will be able to climb the outside of the skyscraper to the Apex, the highest observation deck in the whole of the Western Hemisphere. From here, you can admire great views, and to make it more exciting, lean far out over the edge and look down to the city streets! Safety will be in place with harnesses. This is a great viewpoint, where one can stand and gaze out over Manhattan, with nothing below!
Edge City Climb
Frequently Asked Questions About Visiting the Edge NYC
Why should I visit Edge NYC?
The Edge observation deck should be visited as it is the second-highest observation deck in New York City that offers you the feeling of floating in the sky with 360-degree views of the New York skyline.
Can I visit Edge NYC for free?
Tickets are needed for everyone visiting Edge except for kids below the age of 5 and under, who can visit for free.
How do I book tickets to visit Edge NYC?
You can purchase your Edge NYC tickets online well in advance and enjoy great deals and discounts.
How much does it cost to visit Edge NYC?
What is the best time to visit Edge NYC?
Early mornings and a few hours before closing are good times to visit the Edge observation deck if you prefer exploring the place without crowds.
What are Edge NYC's opening hours?
Can I visit Edge NYC in a group?
Yes, you can book group reservations for groups of 15 members or more.
Can I visit Edge NYC with the kids?
Yes, the Edge is a great place for families to visit. Keep in mind that children below 17 must be accompanied by an adult.
Is the Edge NYC wheelchair friendly?
Yes, Edge is accessible to people with reduced mobility. Elevators and ramps are present to get you to the main floors.
Can I buy food and drinks at Edge NYC?
How long does it take to visit Edge NYC?
It takes 45 minutes to an hour to visit Edge NYC. However, if you'd like to take part in the City Climb and visit the Champagne Bar, we recommend spending at least 2 hours at Edge.
Is it worth visiting Edge NYC?
Yes, the Edge observation deck is well worth visiting and is one of the best sky decks in the country. Marvel at its glass floor, angled walls, and incredible views from a great height.
More Reads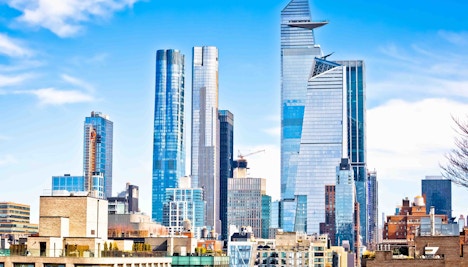 Edge NYC Timings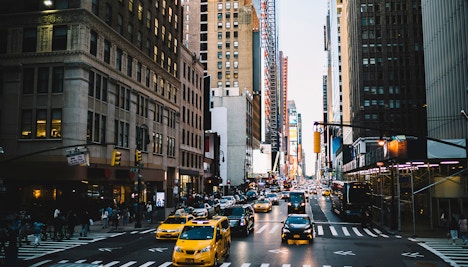 Directions to Edge NYC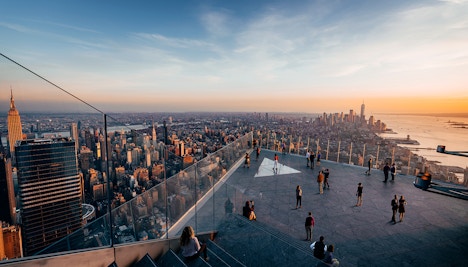 About Edge NYC