Spend Christmas in New York in 2023 | Sledding, Christmas Markets, SantaCon, and more
Contents
Christmas in the Big Apple is truly one of those experiences you have to have in your lifetime. The unsleeping city of New York is pretty magical all throughout the year, but during Christmas, the city shines brighter than ever with festive cheer and joy. If you're lucky enough to find yourself in New York at Christmas, here's some things you have to partake in.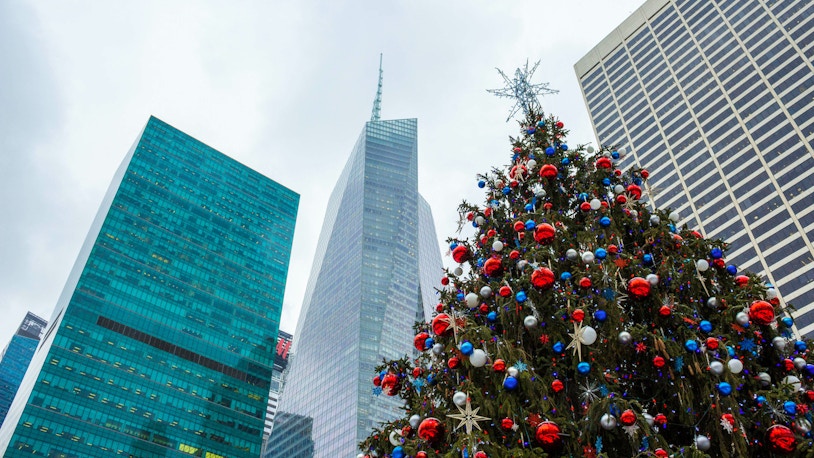 Why Spend Christmas in New York?
Christmas in New York is just like what you've seen in the movies - glittering and busy with something to do around every corner
Snow is common during Christmas in New York, which has the whole city feeling like a picture-perfect yuletide setting
New York's popular attractions like the Empire State Building don on their special Christmas look, making it a fascinating annual display
There's Christmas activities for everyone in New York - whether you prefer a more traditional holiday or a hip and unique Christmastime experience
Top 14 Things To Do During Christmas In New York
1. Stop by the Winter Wonderlands
Not quite feeling the holiday spirit yet? Head to one of these winter wonderlands in New York to experience the joy of the holidays in NYC to the fullest with performances, cocktails, festive grub, and so much more!
The finest winter wonderland in New York are at: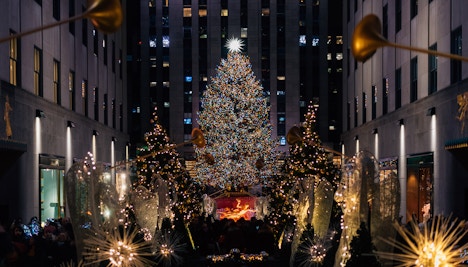 2. Be Amazed at the City's Christmas Trees
New York takes immense pride in the magnitude of their world-famous Christmas trees, and it is easy to see why. These giant evergreens are lit up beautifully for Christmas every year, making them a popular spot for tourists and New Yorkers to gather at.
The most majestic Christmas trees in NYC are at: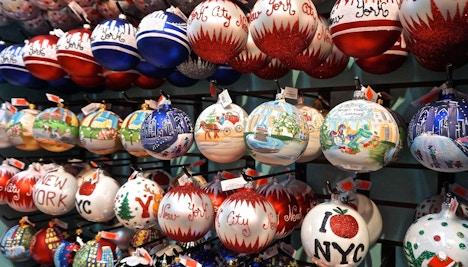 3. Partake in Retail Therapy at Christmas Markets
The holiday markets in New York City are bound to get you in the Christmas spirit like nothing else. Expect to see hundreds of stalls, all selling unique yuletide goodies. You can find everything at these festive markets - from artisanal delicacies, vintage bits and bobs, and crafts to Christmas ornaments.
Shop at the exciting holiday markets located at: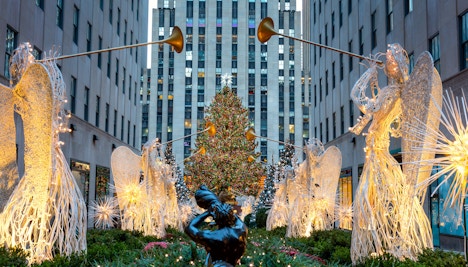 4. Participate in NYC's Holiday Traditions
New Yorkers love their everyday customs, and Christmastime is no exception to this fact. By partaking in age-old traditions that New Yorkers cannot envision Christmas without, you can really soak up the abundant and unique festive cheer of the city. After all, when in Rome!
Some of New York's age-old Christmas traditions are:
Heading to Central Park
Watching the Rockefeller Centre tree lighting ceremony
Watching the Holiday Train show at the New York Botanical Garden
Sipping on festive cocktails at the Miracle pop-up bar
5. Enjoy the Glittering Christmas Lights
What's a Christmas without walking in the midst of exquisitely lit-up streets and inflatable Santas and reindeer? The extravagant Christmas lights have gained worldwide popularity, so if you find yourself celebrating Christmas in New York, you simply can't miss out on these glitzy displays.
Catch the city's finest light displays at: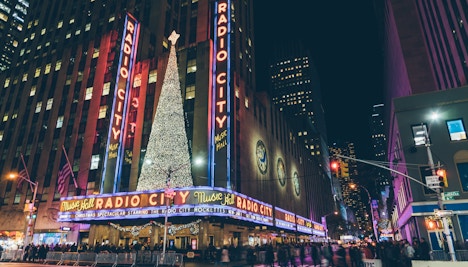 6. Watch the Rockettes in Action
Watching the Rockettes perform at Radio City Hall during the Christmas Spectacular has become something of a tradition for New Yorkers. More than 140 performers take the stage annually and come together for a breathtaking performance, so it's a must to add it to your Christmas in NYC itinerary!
Know more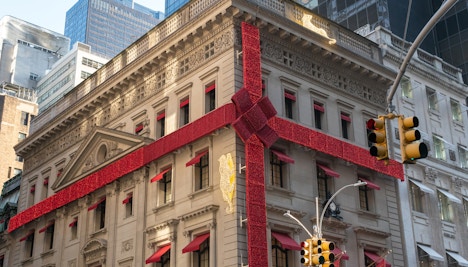 7. Gaze in Awe at Window Displays
Most department stores in New York will put up a (usually themed) window display depicting the joys of Christmastime, and these displays are absolutely delightful. All throughout the month of December, most NYC dwellers make their way to these stores just to catch a glimpse of these gorgeous and thoughtful displays.
New York's most spectacular Christmas window displays: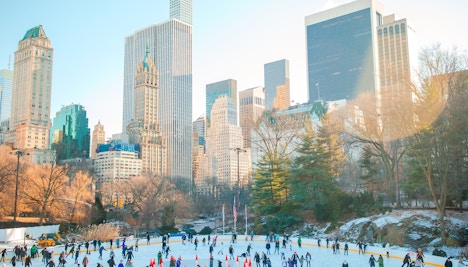 8. Curl, Skate, and Sled
New York tends to get incredibly chilly around Christmas, which is why almost all of the city's residents head to their nearest snow-covered location to participate in some icy fun to keep themselves warm. There are multiple spots in the city where you can partake in activities like curling, sledding, ice skating - you name it!
Best spots for some icy fun are at: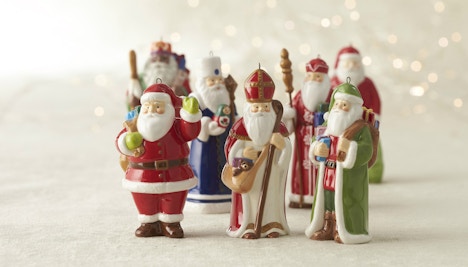 9. Head to Macy's
Heading to Macy's during Thanksgiving and Christmas is another one of those traditions that makes you feel like a real New Yorker. With impressive window displays, a wholesome and inclusive visit with Santa, and holiday gift shops galore, there's no wonder Macy's gets as busy as it does during Christmas.
Know more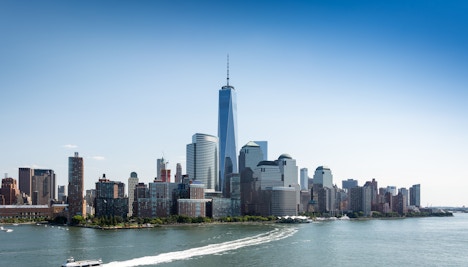 10. Ride Aboard a Holiday Yacht
Envision yourself marveling at New York's glittering skyline while sipping hot cocoa. If you want to celebrate your Christmas in the lap of luxury, look no further than winter-themed holiday yachts, beautifully decked out in vintage Christmas décor. These holiday yacht cruises offer around two to three hours of witnessing NYC at its Christmas best.
Know more
11. Make Your Way to Popular Attractions
It's tempting to go off the beaten path and explore unique experiences during Christmas in NYC, but don't miss out on the glory of the popular ones! The advent of Christmas has these landmarks shining in a whole new festive light all through December, and you can't miss out on these sights!
Experience NYC's most popular attractions at:
12. Have a Meet-and-Greet with Santa
An indispensable (and perhaps the most-awaited) part of the Christmas season is the man himself - Santa Claus. Meeting the iconic Father Christmas is bound to be an unforgettable experience for the young ones. And if you want to witness another whacky NYC tradition unfold, don't forget to attend Santacon - a convention where every attendee dresses as Santa Claus.
Know more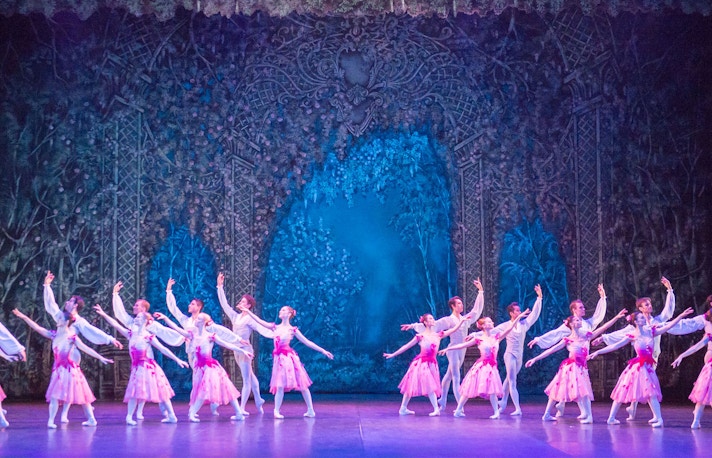 13. Listen to Some Tunes
If singing along to some good old holiday music or immersing yourself in elegant, jazzy tunes for the evening is more your thing, then head to a Christmas show anytime during December in NYC. There's truly nothing that is bound to get you in the festive spirit better than those nostalgic melodies.
Catch these musical masterpieces at: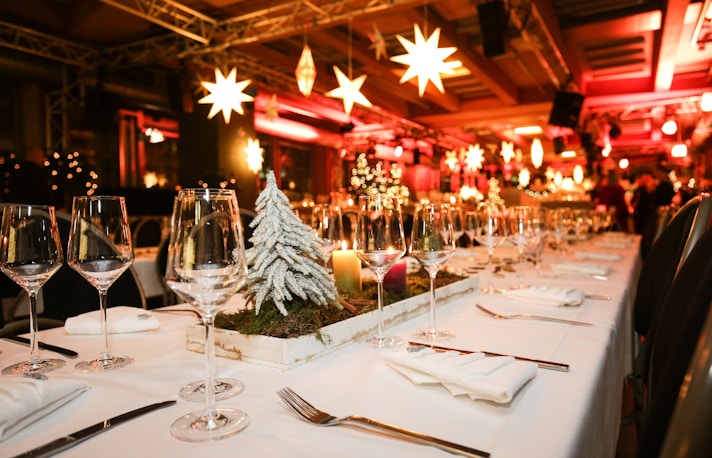 14. Feast to Your Heart's Content
Because after all, what's a festive celebration without gorging on large amounts of delicious grub? Luckily, spending your Christmas in NYC opens you up to a variety of culinary options, ranging from tried-and-tested pop-up bars to luxury fine dining experiences.
Head to these restaurants for the best festive grub:
Frequently Asked Questions About Celebrating Christmas in New York
Is Christmas a good time to visit New York?
Christmas is one of the best times of the year to visit New York. In addition to the Big Apple's already magical aura, you're bound to find holiday-special things to do during Christmas in NYC at every corner you turn.
What are some things to do in NYC on Christmas eve?
You're going to be spoilt for choices with how many things to do during Christmas in NYC there are. You can catch a holiday-special Broadway show, head to a pop-up bar for festively spiced drinks, participate in icy activities like sledding and curling, explore the city's light shows, and more!
What is the weather like at Christmas in New York?
December in New York is definitely one of the coldest times of the year there. You can expect temperatures from 0 degrees Celsius at night to around 4 - 5 degrees Celsius during the daytime, so it's wise to bundle up!
Is New York crowded at Christmas?
Since Christmastime in New York is quite popular globally, the city sees an influx of tourists right around the months of November to December. It's best to venture out at the crack of dawn during Christmas in NYC!
What's open in New York on Christmas?
Many shops and department stores are unfortunately closed on Christmas Day, but popular landmarks like Central Park are still open for everyone!
What is the most popular Christmas market in New York?
The most popular Christmas market in New York is, hands down, the Winter Village at Bryant Park - which is also a veritable winter wonderland, as there are many festive activities to do there.
Are restaurants open on Christmas in New York?
Many popular restaurants like Red Rooster and Le Jardinier are open on Christmas day, and they even offer special festive menus for you to peruse!
What are the best places to stay in New York on Christmas?
New York's hotels ace the festive décor game every year by decking themselves up with Christmassy décor. The best hotels in New York to really feel the Christmas spirit are the Ritz Carlton, Lotte New York Palace, The Plaza and Mandarin Oriental.
What should I eat in New York on Christmas?
With New York's food being an amalgam of every culture imaginable, Christmas is no exception. Most people in New York prefer dining out on Christmas day, indulging in the Italian-American tradition of the Feast of Seven Fishes or eating Chinese food.
What are the best restaurants for Christmas in New York?
The best restaurants in New York for Christmas grub are Kimika, Rolo's, Fogo de Chao, and COTE Korean Steakhouse.
Where can I see the Christmas lights in New York?
The best places to catch the Christmas lights in New York are Dyker Heights, Saks Fifth Avenue, Hudson Yards, and Citi Field.
What are some Christmas traditions in New York?
For the authentic New York Christmas experience, you must visit Bryant Park for its ice skating rink, catch the Rockettes at Radio City Hall, head to Central Park for some sledding, explore the window displays around the city, and marvel at the Rockefeller Center Christmas tree.
When does Christmas in NYC start?
Expect to already be seeing streets decked out in classic NYC Christmas decorations sometime around the end of November.