The Ultimate Travel Guide to Visiting New York in February
Contents
At the meeting point of the Hudson River and the Atlantic Ocean lies the famous New York City, encompassing five boroughs that boast a wide array of attractions and things to do, ranging from captivating Broadway shows and diverse dining options to exceptional shopping experiences and iconic landmarks. With renowned museums adding to its allure, New York takes immense pride in its global reputation as one of the world's greatest cities.
Is February a Good Time to Visit New York?
The weather in New York can be freezing during February with the potential for snow. The city experiences low tourist footfall during this time, meaning there are fewer crowds everywhere, making February a great month to visit the city.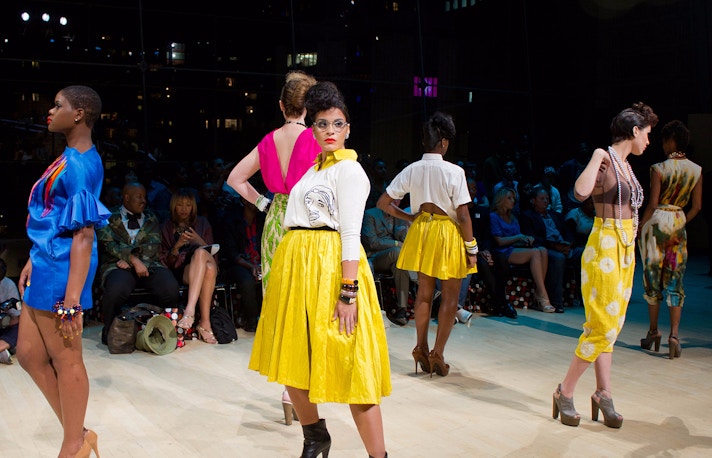 Why You Should Visit?
February in New York brings a low tourist season with fewer crowds at attractions. 
The snowy weather creates the perfect opportunity for enjoyable activities such as ice skating, ice sledding, and fun snowball fights.
Popular events like the Winter Jazzfest and New York Fashion Week are celebrated during the month and are a must-attend if you are visiting New York in February.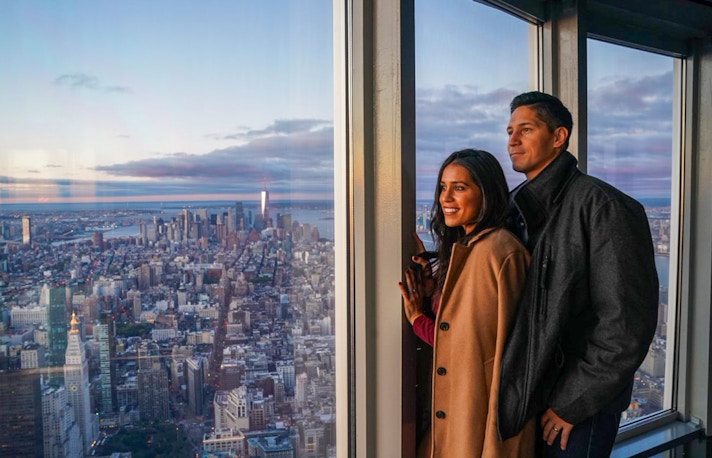 What to Look Out For?
Snowfall is common during February. Keep a check on weather conditions and any cancellations that might happen.
Temperatures can drop to -7°C at night making the weather extremely cold.
Accommodation rates are really cheap in February since it is the low tourist season, making it the cheapest time of the year to visit New York.
Overview of the Weather in New York in February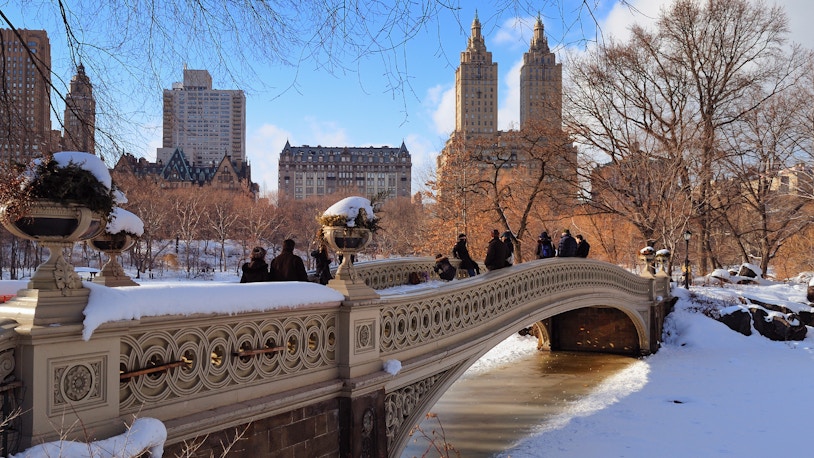 The weather in New York in February is extremely cold with high chances of snowfall. The month is ideal for visiting museums, attending popular events, going ice skating, and watching Broadway shows.
Average Temperature: High:  -7 degrees C, Low degrees:  5 degrees C
Average rainfall: 55mm
Daily Wind Speed: 15.4 mph
Temperature of Sea: 4.4 degrees C
Average Daylight: 10.6 hours
Best Time to Visit New York
Best Things to Do in New York in February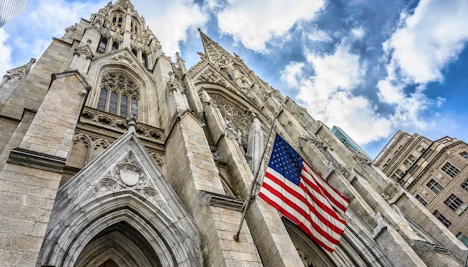 1. St. Patrick's Cathedral
City Landmark | Cathedral
St. Patrick's Cathedral is a magnificent Gothic Revival masterpiece built in 1878. Its awe-inspiring architecture features stunning stained glass windows, intricate stone carvings, and soaring spires. As the seat of the Archdiocese of New York, the cathedral holds immense religious and historical significance. A popular attraction for visitors and worshipers alike, St. Patrick's Cathedral offers a serene retreat in the heart of Manhattan and remains a symbol of faith and beauty.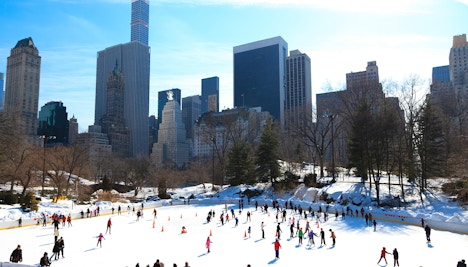 2. Central Park
City Landmark | Park
During the winter season, Central Park transforms into a breathtaking winter wonderland. The landscape is adorned with a blanket of snow, offering visitors a picturesque setting to feast their eyes on and take pictures. Frozen lakes and ponds provide opportunities for ice skating, sledding, cross-country skiing, and snowshoeing, while the walking paths offer a tranquil escape. The serene beauty of the park makes it a popular spot for locals and tourists alike to soak in the seasonal charm. Visitors can also explore the zoo, wander through woodlands, or catch a show at the Swedish Cottage.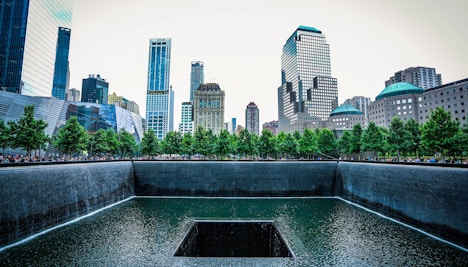 3. 9/11 Memorial and Museum
City Landmark | Museum
The 9/11 Memorial and Museum was built to pay homage to those who died in the tragic events of September 11, 2001. Located at the World Trade Center, the memorial comprises two reflecting pools set within the footprints of the Twin Towers. It honors the nearly 3,000 victims of the 9/11 attacks and the World Trade Center bombing that happened in 1993. The museum is home to artifacts, exhibits, and personal stories, providing a moving experience that pays tribute to the resilience and unity of the country.
Visit the 9/11 Memorial & Museum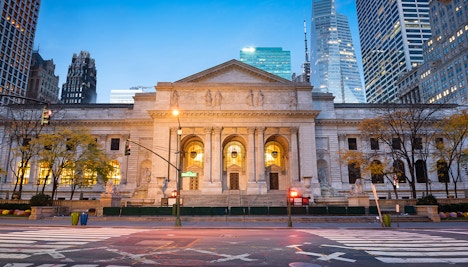 4. New York Public Library
City Landmark | Library
The New York Public Library is a historic institution that serves as a cultural and literary cornerstone of New York City. With its iconic Beaux-Arts architecture, the library houses a vast collection of books, manuscripts, and artworks. It comprises several branches across the city, with the Stephen A. Schwarzman Building on Fifth Avenue being the main research and reference library. The library is a treasured resource, offering a wealth of knowledge and cultural enrichment to the public.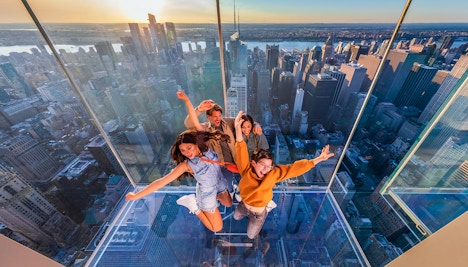 5. SUMMIT One Vanderbilt
City Landmark | Observation Deck
SUMMIT One Vanderbilt is an awe-inspiring attraction located at the top of One Vanderbilt. One Vanderbilt is one of the tallest buildings in New York City, and the observation deck is located on the 59th floor, providing a soaring vantage point to admire the city's skyline from a high elevation. Aside from the stunning panoramic views, the attraction also houses a range of unique exhibits that are indoors. These exhibits are interactive and challenge the laws of physics, providing an exhilarating experience.
Visit SUMMIT One Vanderbilt
6. Broadway
Theater
Broadway serves as a prominent hub for top-tier theater and performances in New York. The renowned theater district showcases a diverse array of shows, encompassing classic and contemporary productions. Visitors can escape the winter chill and indulge in captivating stories, musicals, and plays presented by talented artists. Broadway stages everything from heartwarming holiday-themed shows to compelling dramas, catering to all tastes and ensuring an enjoyable and engaging experience for all.
Book Broadway Shows
Events in New York in February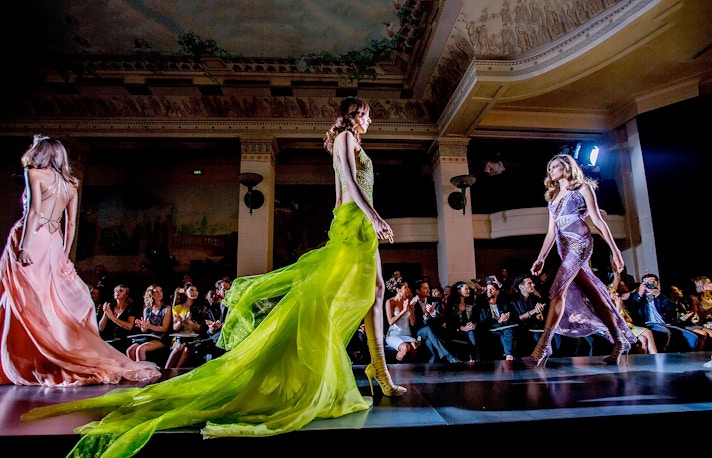 New York Fashion Week
Date: February
New York Fashion Week is a hugely popular biannual event held in February and September. It showcases the latest collections of prominent designers and emerging talents. Fashionistas, celebrities, and industry professionals flock to New York to witness runway shows, presentations, and exclusive events. The event attracts global media attention, setting trends and shaping the future of fashion while celebrating creativity, innovation, and style on the world stage.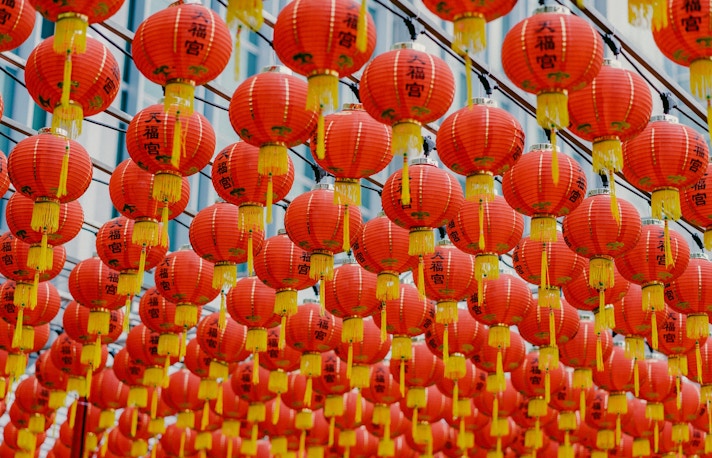 Lunar New Year Parade and Festival
When: Jan - Feb
The Lunar New Year Parade and Festival is a vibrant and cultural celebration held in New York's Chinatown area. It marks the Chinese New Year with colorful processions, traditional lion and dragon dances, and mesmerizing performances. The streets come alive with festive decorations, food vendors, and cultural activities that showcase the rich heritage and customs of the Asian community residing in the city. The renowned parade is a must-see spectacle in New York, capturing the cultural essence and joy of the season.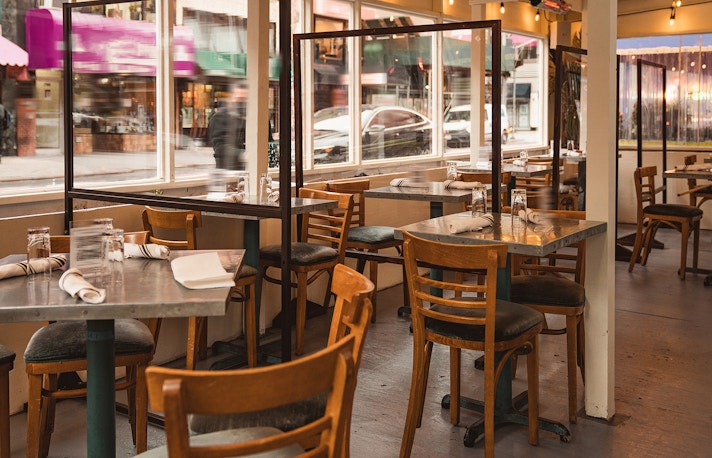 New York City Restaurant Week
When: Jan - Feb
New York City hosts the eagerly awaited NYC Winter Restaurant Week, a popular culinary extravaganza. During this event, the city's finest restaurants entice diners with specially crafted prix-fixe menus at discounted prices. It's an opportunity for locals and visitors to indulge in a delightful array of delectable dishes, specially curated by each restaurant. The event promises a heavenly gastronomic journey, leaving diners with a memorable and satisfying dining experience.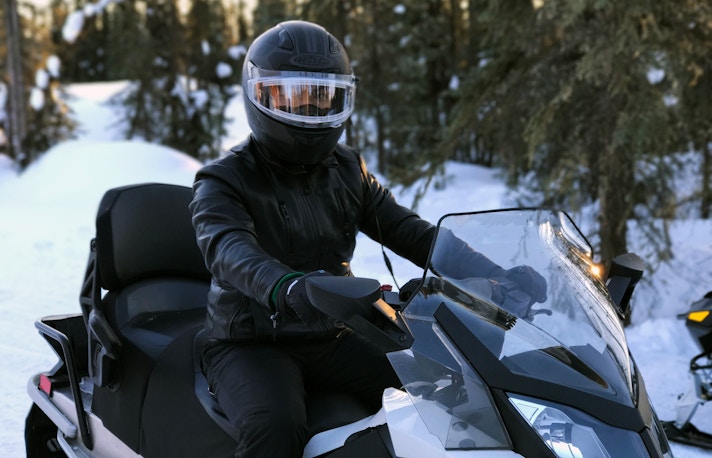 Winter Jam
When: February
Winter Jam is an annual winter sports festival held in Central Park. It offers a day of free and thrilling winter activities like snowboarding, skiing, ice carving, bobsledding, ice bowling, snowshoeing, and more. The event features live entertainment, food vendors, and fun-filled competitions. It provides an exciting opportunity for New Yorkers and tourists to embrace the winter season and enjoy outdoor sports in the heart of the city.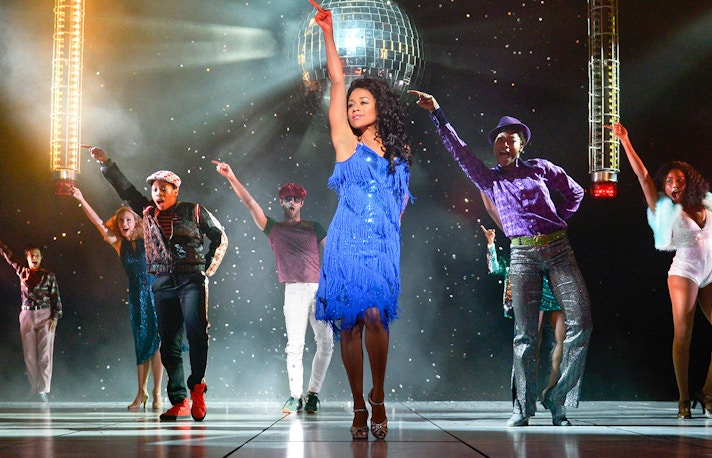 NYC Broadway Week
When: February
NYC Broadway Week is a highly anticipated biannual event that offers theater enthusiasts an incredible opportunity to experience the magic of Broadway at discounted prices. During this week-long celebration, theatergoers can purchase two-for-one tickets to select Broadway shows, allowing them to enjoy world-class performances and musicals at a more affordable cost. NYC Broadway Week is a beloved tradition that attracts both locals and visitors, making it an unforgettable experience for all.
Book Broadway Show Tickets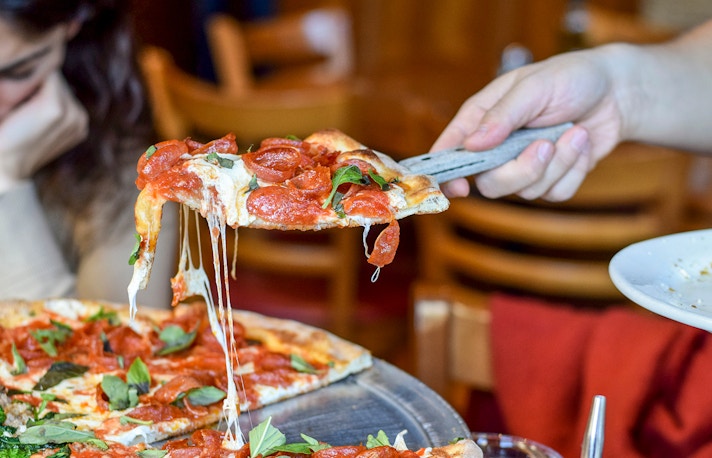 National Pizza Day
When: February
National Pizza Day, celebrated on February 9th, is a delicious occasion in New York. As the pizza capital of the world, the city's pizzerias and restaurants offer a delightful variety of slices and pies. Locals and visitors indulge in their favorite slices, from classic New York-style to creative gourmet toppings. It's a day of pizza-themed events, special offers, and celebrations throughout the city, honoring this beloved culinary icon that holds a special place in the hearts of New Yorkers and pizza enthusiasts worldwide.
Know Before You Visit New York in February
Travel Essentials
What to Wear?
What to Pack?
Transport
Stay
Food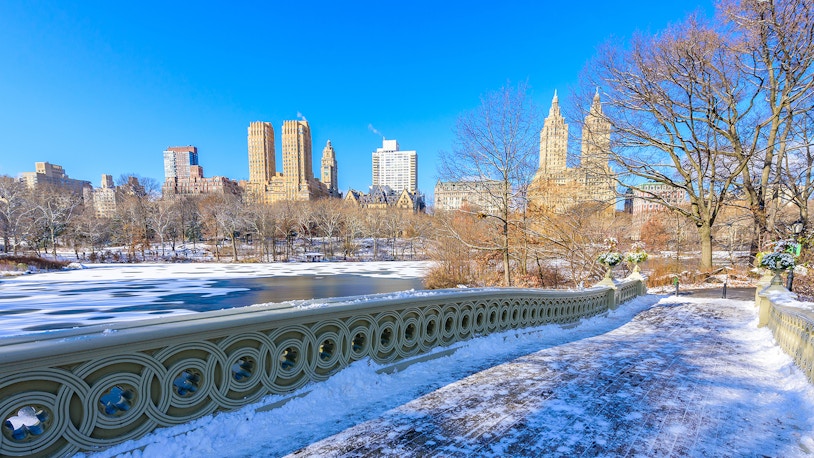 Time zone: GMT-5
Currency: United States Dollars (USD)
Country code: +1-646
Emergency numbers: 911
Travel Guide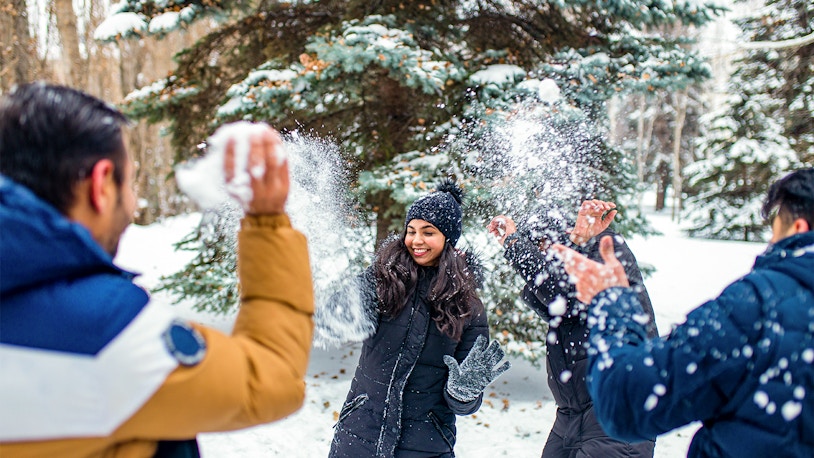 New York experiences cold temperatures in February, which is why you must carry warm clothes like heavy coats, sweaters, scarves, hats, and gloves.
Wear thermal layers, socks, and comfortable shoes.
Raincoats and waterproof/weatherproof boots are recommended since New York sees a certain amount of rainfall during the month.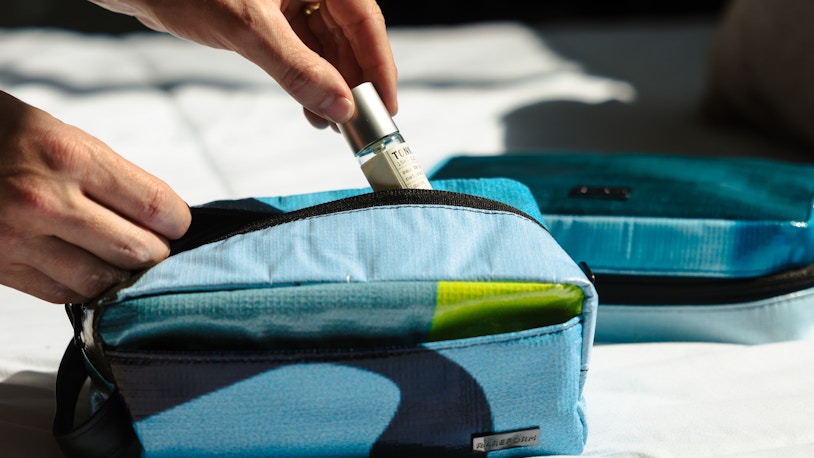 Thermal layers, socks, gloves, and heavy coats to protect yourself from the cold.
A few areas of New York can be dirty, therefore, pack hand sanitizers as well.
Carry your medicines and first-aid essentials, including band-aids.
Pack a chapstick, moisturizer, and lotion to prevent dry lips and hands.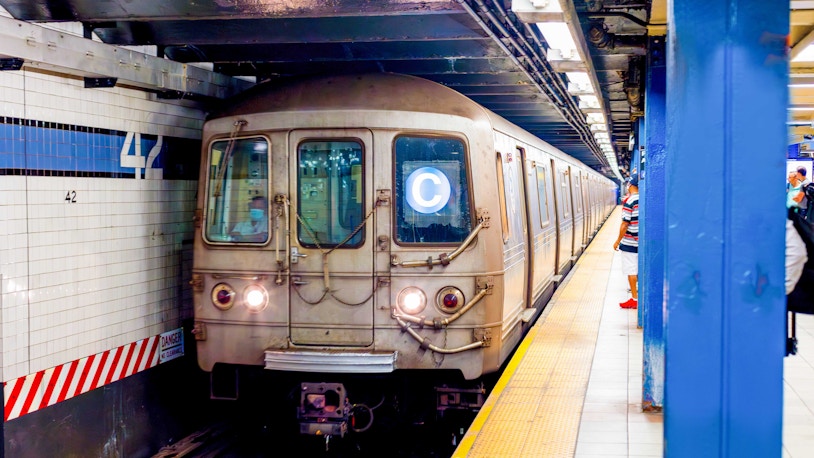 Getting Around New York in February
By Subway: The subway system is efficient, cost-effective, and runs 24/7 connecting all major attractions and neighborhoods in New York City.
By Taxi: Taxis and ride-sharing services like Uber and Lyft are easily available. They provide door-to-door transportation and are a warm and convenient option during winter.
By Bus: The bus network covers areas not served by the subway. The buses are heated, making them a comfortable option in winter. You can also avail of the hop-on hop-off bus tours, which provide narrated tours of New York's popular attractions and offer the flexibility to explore the city at your own pace.
By Ferry: Use the NYC Ferry service to travel between Manhattan, Brooklyn, Queens, and the Bronx, while soaking in scenic panoramic views of the city's waterfront.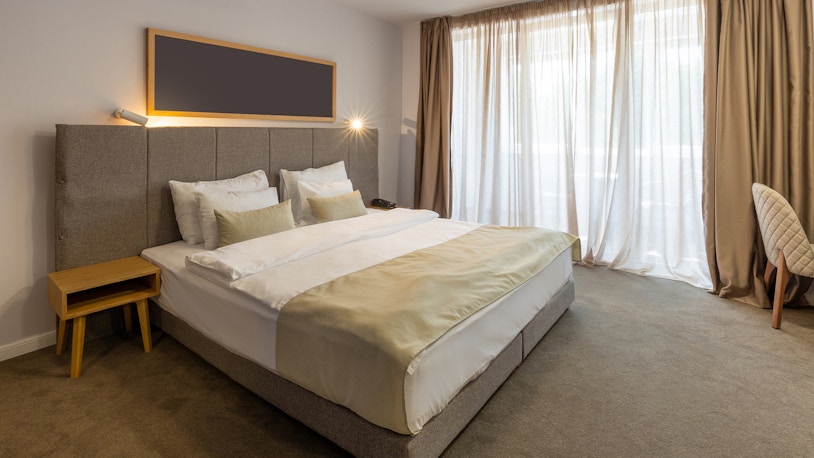 In New York, you can find a diverse range of accommodation options to match any budget. Whether you prefer luxury hotels or budget-friendly hostels, the city has something to offer everyone.
Budget Hotels: Hotel 50 Bowery NYC, EVEN Hotel Times Square South, & HI New York City Hostel.
Mid-Range Hotels: The Sherry-Netherland Hotel, Hilton Garden Inn NYC Financial Centre, & Pod 51.
Luxury Hotels: The Whitby Hotel, Crosby Street Hotel, & Hotel Riu Plaza Manhattan Times Square.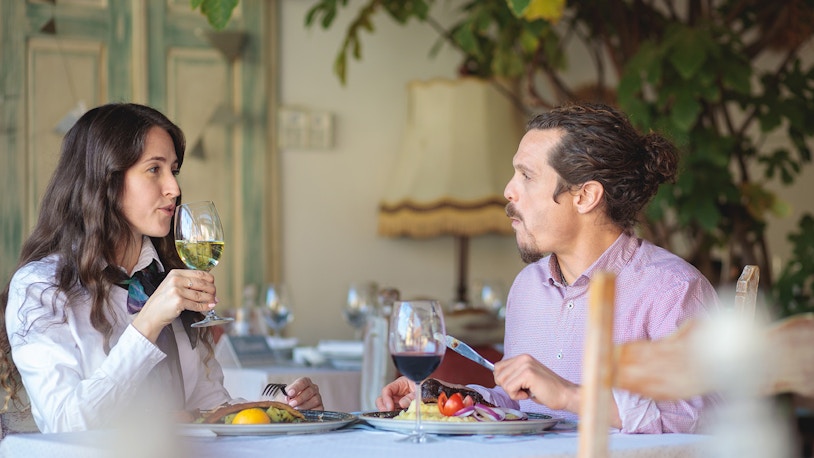 New York's food scene is incredibly diverse, catering to a wide range of tastes and preferences. The city boasts several remarkable restaurants, each offering a delightful array of dishes from around the world.
Eleven Madison Park: This high-ceiling Art Deco space led by chef Daniel Humm serves American tasting menus, snacks, and cocktails.
COTE Korean Steakhouse: A stylish and upscale Korean steakhouse or barbeque spot offering tables with smokeless grills and an extensive wine selection.
Cadence: This vegan restaurant led by chef Shenarri Freeman serves delicious plant-based dishes including pasta, smoked grits, and hearts of palm cakes.
The Modern: A beautiful, modernist space serving French and New American fare with stunning garden views at the Museum of Modern Art.
Explore New York Through The Year
Frequently Asked Questions About Visiting New York in February
Is February a good time to visit New York?
Yes, February is the cheapest month to visit New York because it is an off-season for tourists.
What are the best things to do in New York in February?
Ascend to one of the observation decks in the city and admire a snow-covered New York. Stay warm with a whiskey tour at the Tuthilltown distillery, and feel the chilly wind in your hair on a Circle Line NYC landmark cruise. End the night with a Broadway show for an unforgettable experience. You can also visit museums, art galleries, and Central Park.
Is New York cold in February?
New York is cold in February with temperatures ranging between -7 and 5 degrees, so carry warm clothes like heavy coats, sweaters, scarves, gloves, and hats.
How hot is New York in February?
New York does not experience hot weather in February. The weather is cold with snowfall and little chances of rain.
Can you swim in New York in February?
Swimming in New York in February is discouraged because the water temperature is extremely cold.
Is it sunny in New York in February?
There are chances of a perfect sunny day as well as days, which are a mix of sunshine and clouds.
What clothes to wear in New York in February?
The city experiences cold weather in February, so wear warm clothes like heavy coats, sweaters, scarves, hats, and gloves.
Is it rainy in New York in February?
The city experiences slight rainfall in February.
Is New York expensive to visit?
New York is usually one of the most expensive cities to visit but February is an off-season for tourism, which means accommodations and attractions are much cheaper to book. In fact, February is the cheapest month to visit the city.
New York is fairly safe. However, avoid going to deserted areas alone at night and watch out for pickpockets on busy streets.
What can I see in New York in February?
What are the major events in New York in February?
Major events in New York in February include New York Fashion Week, Valentine's Day, NYC Winter Restaurant Week, Lunar New Year Parade and Festival, National Pizza Day, and Winter Jam.
What is the average temperature in New York in February?
The average temperature ranges between -7 to 5 degrees in February.
What are the best things to do with kids in New York in February?
For families visiting New York, there are plenty of kid-friendly attractions to enjoy. Take your children to the Bronx Zoo, Central Park Zoo, Governors Island, New York Aquarium, Children's Museum of the Arts, and Lincoln Center. Additionally, consider ice skating or treating them to a puppet show or a Broadway production tailored for kids.