Your Complete Guide to Visiting New York in April
Contents
New York is, undoubtedly, one of the most popular tourist destinations in the world. Iconic skyscrapers, busy streets, world-class museums, diverse culture, dynamic weather conditions, culinary delights, and Broadway shows - the city is an ever-evolving symphony of life, dreams, and possibilities. Often referred to as 'The Big Apple', this global metropolis features architectural marvels that define its skyline and diverse neighborhoods that showcase a vibrant blend of cultures. From the dazzling lights of Times Square to the serenity of Central Park, New York offers a spectrum of experiences. 
Throughout the year, New York's weather shifts with the seasons. While the city is alive all year round, let's find out what it offers in the month of April.
Is April a Good Time to Visit New York?
The month of April sees the spring season in full bloom with cherry blossoms and lush greenery adorning the streets and parks of New York. The city also experiences a shoulder tourist season during this month.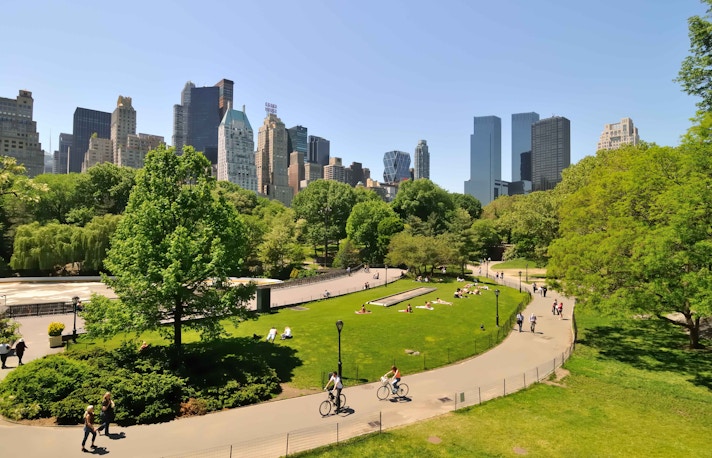 Why You Should Visit?
New York starts to come alive in April with blossoming flowers and greenery at parks, like Central Park and Brooklyn Botanical Garden, and streets across the city. 
The city hosts several fun events during the month like Macy's Flower Show, New York International Auto Show, Orchid Show, the famous Sakura Matsuri Cherry Blossom Festival, and more.
The month of April is a good time to enjoy outdoor activities like walking tours, parks, food festivals, observation decks, rooftop places, and more.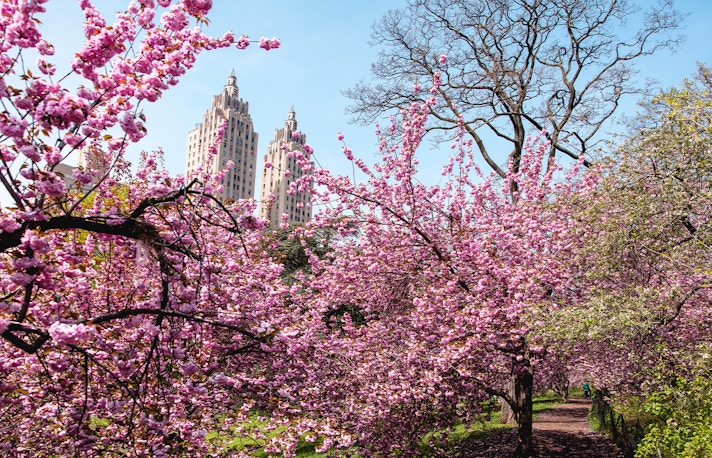 What to Look Out For?
Don't miss the cherry blossoms at Central Park, Brooklyn Botanical Garden, and other hidden spots around the city.
April is a shoulder month for tourists, which means lesser crowds at attractions and cheaper accommodation.
Experience the cultural diversity of New York at the various art, film, and music festivals held across the city. Take part in parades and indulge in pillow fights at Washington State Park.
Overview of the Weather in New York in April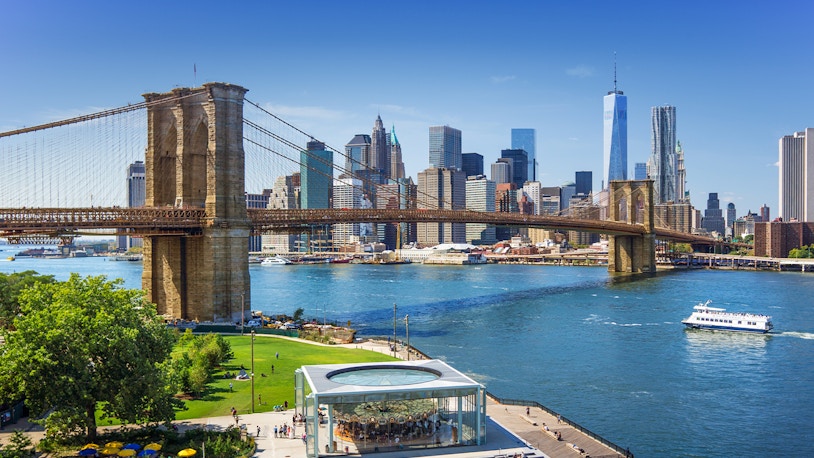 The weather in New York in April is pleasant with sunny days, slight showers, and moderately chilly temperatures at night. The month is ideal for visiting museums and parks, watching Broadway shows, taking helicopter tours, exploring cultural festivals, and going on walking tours.
Average temperature: High: 18 degrees C, Low degrees: 5 degrees C
Average rainfall: 91.4 mm
Daily wind speed: 8.7  mph
Temperature of sea: 3.8 degrees C to 13.8 degrees C
Average daylight: 13.3 hours
Best Time to Visit New York
Best Things to Do in New York in April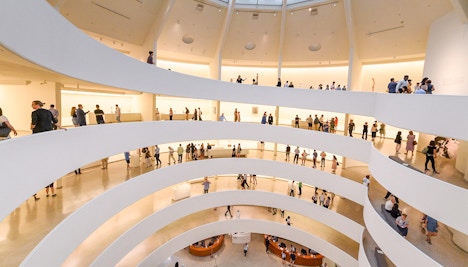 1. Guggenheim Museum
City Landmark | Museum
The Guggenheim Museum is a masterpiece designed by Frank Lloyd Wright. Its unique spiraling architecture showcases a vast collection of modern and contemporary art, including works by renowned artists like Kandinsky and Picasso. The museum's distinctive interior creates a dynamic exhibition space. From its impressive rotunda to its varied exhibitions, the Guggenheim offers a captivating experience for art enthusiasts, blending art and architecture seamlessly.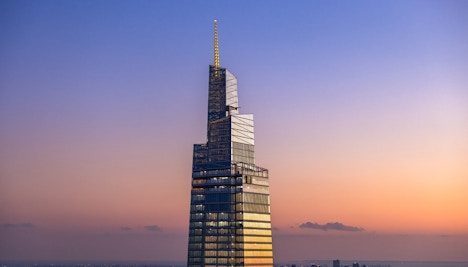 2. SUMMIT One Vanderbilt
City Landmark | Observation Deck
SUMMIT One Vanderbilt Observation Deck is a breathtaking sky-high experience in New York. Located atop the One Vanderbilt skyscraper, it offers stunning panoramic views of the city's iconic landmarks. With its state-of-the-art technology, immersive exhibits, and glass-floored viewing platform, visitors can enjoy a unique perspective of the bustling city below. SUMMIT provides an elevated and unforgettable way to appreciate New York's skyline and urban landscape.
Visit SUMMIT One Vanderbilt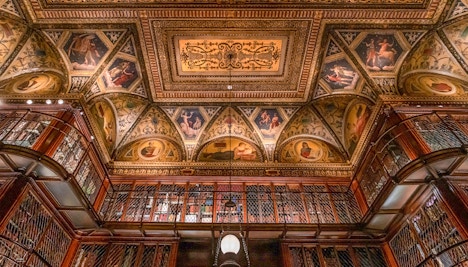 3. Morgan Library & Museum
City Landmark | Museum
The Morgan Library & Museum in New York is a treasure trove of art, literature, and history. Housed in a historic building, it features a vast collection of rare books, manuscripts, and artwork. Visitors can explore the stunning library, admire illuminated manuscripts, and view exhibitions showcasing everything from ancient artifacts to modern masterpieces. The museum offers a glimpse into the world of creativity and knowledge, making it a must-visit cultural destination.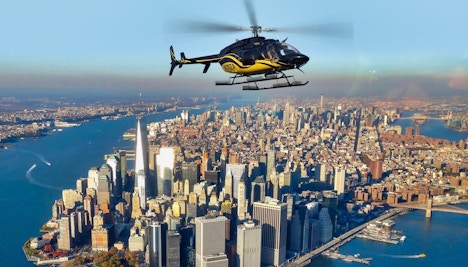 4. New York Helicopter Tour
Sightseeing
Experience the beauty of New York from the sky on an exciting helicopter ride. Listen to the pilot's live talk as you fly over famous places like the Statue of Liberty, Central Park, and more. See the tall buildings and important places like the Empire State Building. Look at the special bridge that connects Staten Island and New York. It's a fun way to see the city from above!
Book a New York Helicopter Tour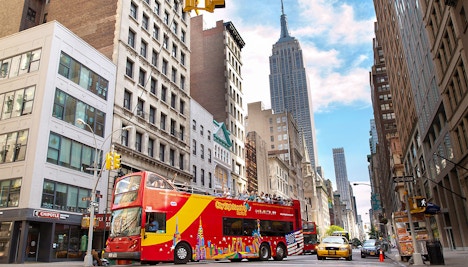 5. New York Hop-On Hop-Off Bus Tour
Sightseeing
One great way to see New York City is by using a hop-on hop-off bus. You can look at all the famous places and buildings and see the city from every angle. The bus has two routes, one for downtown and one for uptown. It stops at many important places like Times Square, the Empire State Building, Central Park, and more. There's also a guide that talks about the places in different languages. It's a fun way to explore!
Book a New York Bus Tour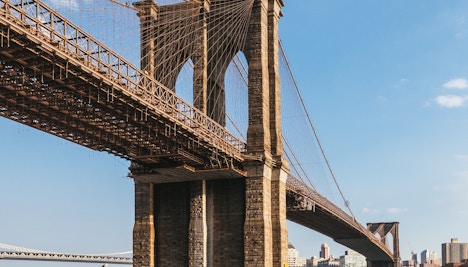 6. Brooklyn Bridge
City Landmark
The Brooklyn Bridge in New York is an iconic suspension bridge that connects Manhattan and Brooklyn. Completed in 1883, it's known for its distinctive design and historic significance. Visitors can walk or bike across the bridge, enjoying spectacular views of the city skyline and the East River. Its grand arches and cables make it a symbol of engineering marvel and a popular spot for both locals and tourists to experience the city's charm.
Book a Brooklyn Bike Tour
Events in New York in April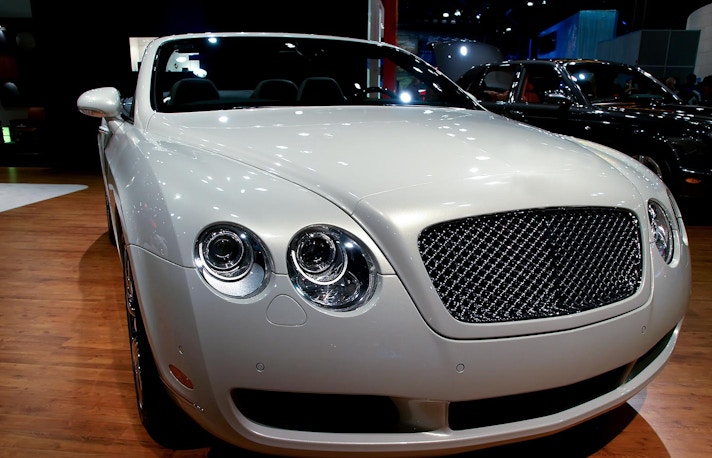 New York International Auto Show
When: April
The New York International Auto Show is a major annual event showcasing the latest innovations in the automotive industry. Held at the Javits Center, it features a wide range of vehicles, from concept cars to production models. It's a hub for car enthusiasts, providing a glimpse into the future of transportation and cutting-edge design.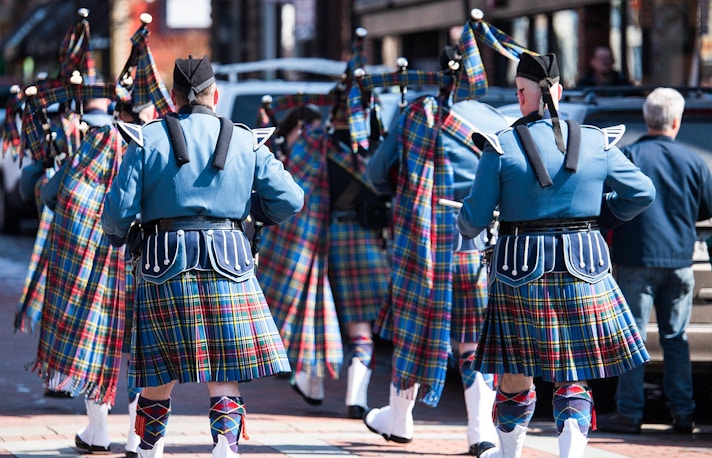 New York Tartan Day Parade
When: April
The New York Tartan Day Parade is an annual event celebrating Scottish heritage and culture. Taking place along Sixth Avenue, it features bagpipers, dancers, and participants wearing traditional tartan attire. The parade commemorates the contributions of Scottish-Americans to New York City and is a vibrant display of Scottish pride and traditions.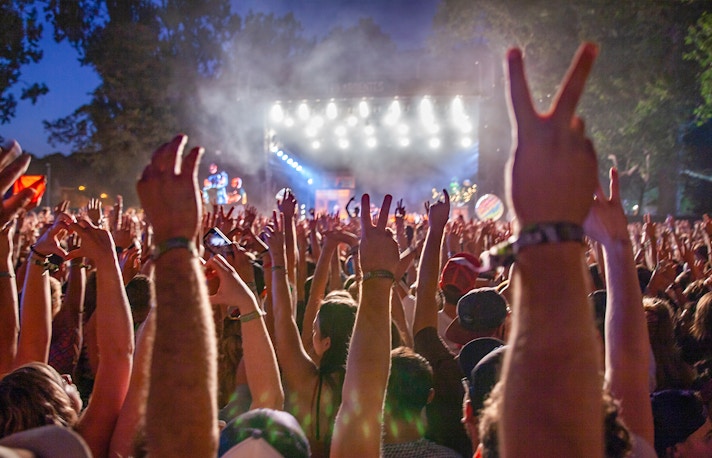 Tribeca Film Festival
When: April
The Tribeca Film Festival is an acclaimed annual event held in New York. It showcases a diverse range of films, from independent projects to documentaries. Founded to revitalize Lower Manhattan after 9/11, it's a platform for filmmakers to share their stories. The festival also includes discussions, panels, and interactive experiences for both filmmakers and audiences.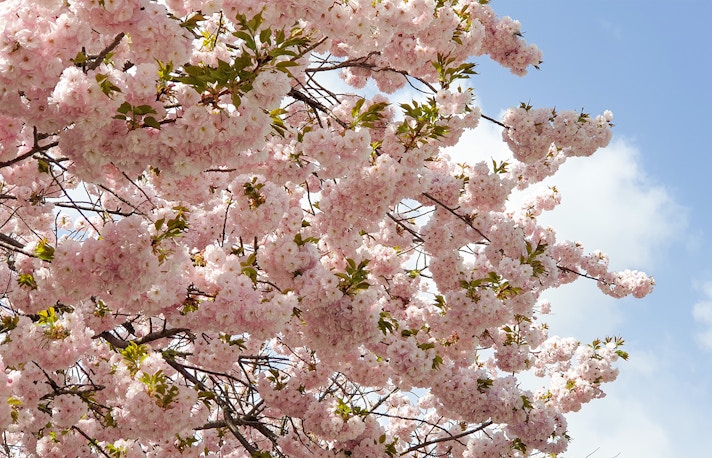 Sakura Matsuri
When: April
Sakura Matsuri is the Cherry Blossom Festival held at the Brooklyn Botanic Garden in New York. It celebrates Japanese culture and the blooming of cherry blossoms. Visitors can enjoy traditional performances, workshops, and cultural displays. The festival showcases the beauty of spring and the significance of cherry blossoms in Japanese heritage.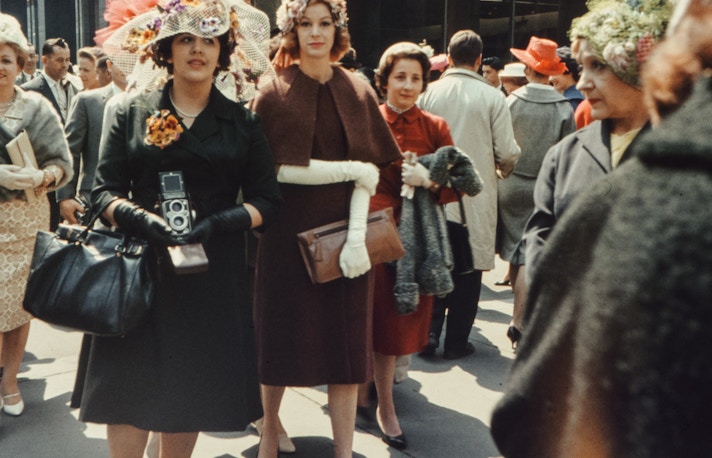 The Easter Parade
When: April
The Easter Parade in New York is a cherished tradition where participants showcase creative and elaborate bonnets and outfits. Taking place along Fifth Avenue on Easter Sunday, it's a festive and colorful display of individuality and artistry. The parade is a joyful celebration of spring and a unique blend of fashion and self-expression.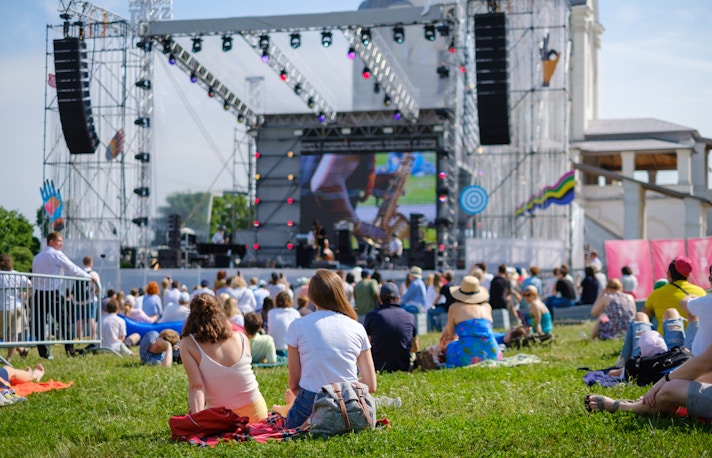 New York International Music Festival
When: April
The New York International Music Festival is an annual event celebrating music and culture. Musicians from around the world gather to perform in iconic venues across New York City. The festival offers diverse genres and styles, showcasing the global language of music and fostering cross-cultural connections through the power of melodies and rhythms.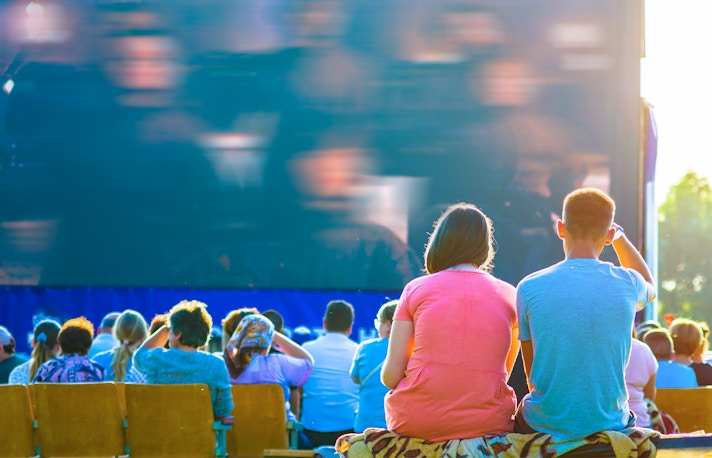 Green Film Festival
The Green Film Festival in New York is an annual event dedicated to environmental films. It presents a selection of documentaries and narratives that explore pressing environmental issues and solutions. The festival raises awareness about sustainability and the natural world while engaging audiences in discussions about our planet's future.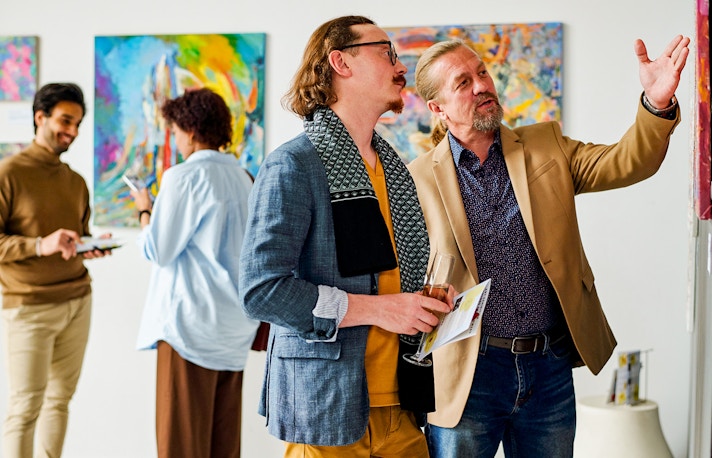 Artexpo New York
Artexpo New York is a renowned art fair held at the Javits Center. It features a diverse range of artworks, from paintings and sculptures to photography and more. The event provides artists and galleries a platform to showcase their creations and connects art enthusiasts with unique pieces and emerging talents in the art world.
Know Before You Visit New York in April
Travel Essentials
What to Wear?
What to Pack?
Transport
Stay
Food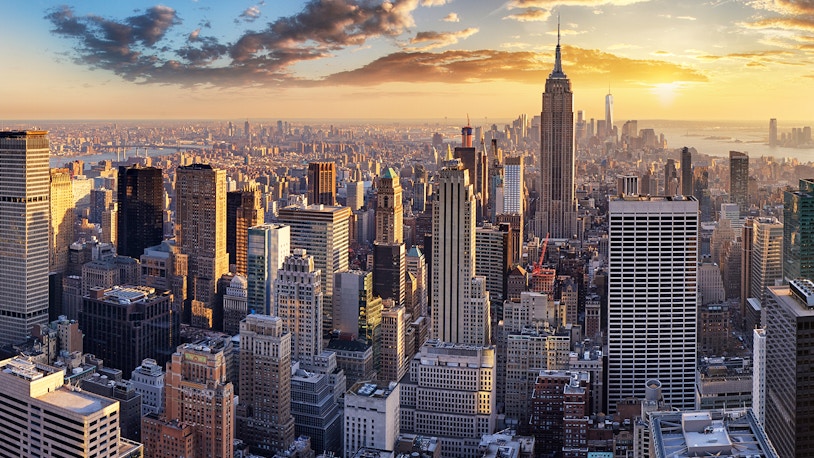 Time zone: GMT-5
Currency: United States Dollars (USD)
Country code: +1-646
Emergency numbers: 911
Travel Guide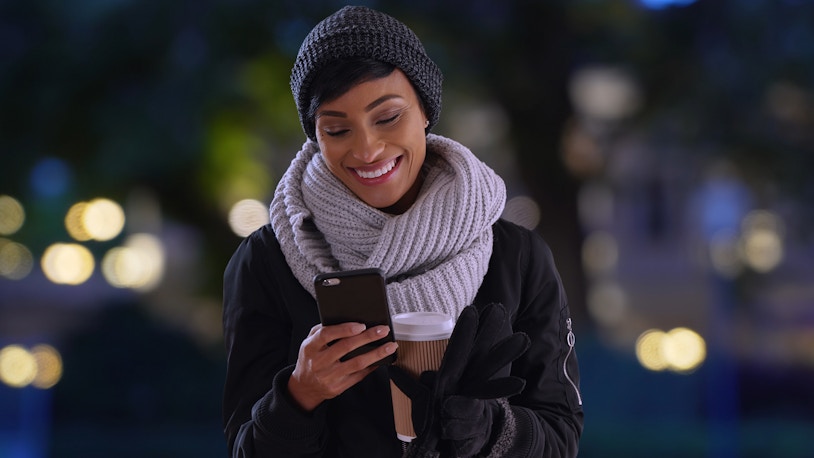 During the first part of April, the weather is cooler, so make sure to wear warm clothes like a sweater, woolen scarf, and gloves. 
Consider packing versatile layers to adapt to the changing weather. 
Be prepared for occasional rain with an umbrella or waterproof jacket. 
Comfortable shoes are a must because walking is a big part of experiencing New York!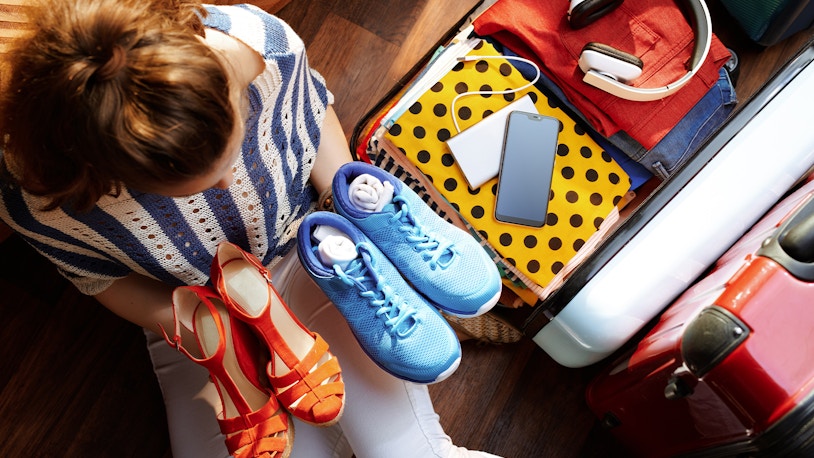 Remember to bring your phone charger, power bank, and power adapters. 
Pack warm layers, wool socks, sweaters, and thick coats to stay cozy because temperatures may fall at night, especially in the first couple of weeks. 
Keep in-hand sanitizers as some parts of New York might not be very clean. 
Have your medications and first-aid supplies, including band-aids. 
Carry chapstick and lotion to keep your lips and hands moisturized and protected.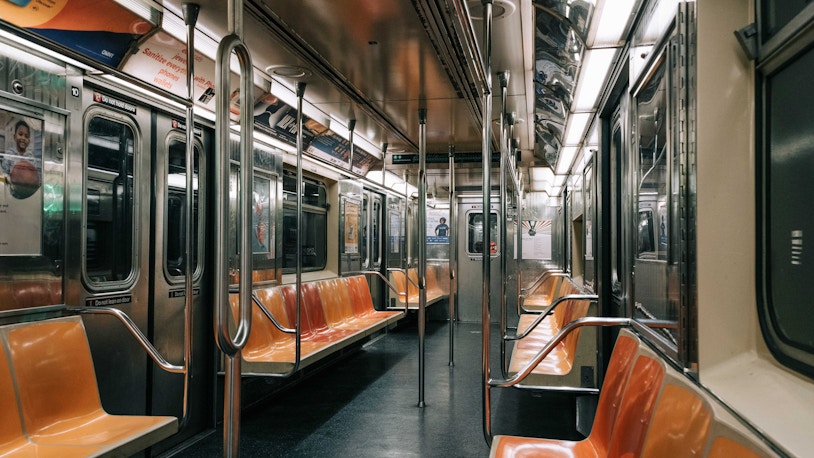 Getting Around New York in April
By Bus: The bus network in New York covers areas not served by the subway, making them a comfortable and affordable option for travel.
By Subway: The subway network is the most efficient and affordable way to get around the city. It runs 24/7 and connects all major attractions and neighborhoods across the city.
By Ferry: Use the ferry service to travel between Manhattan, Brooklyn, Queens, and the Bronx, while admiring scenic views of the waterfront and the city.
By Taxi: Taxis and ride-sharing services like Uber and Lyft are easily available.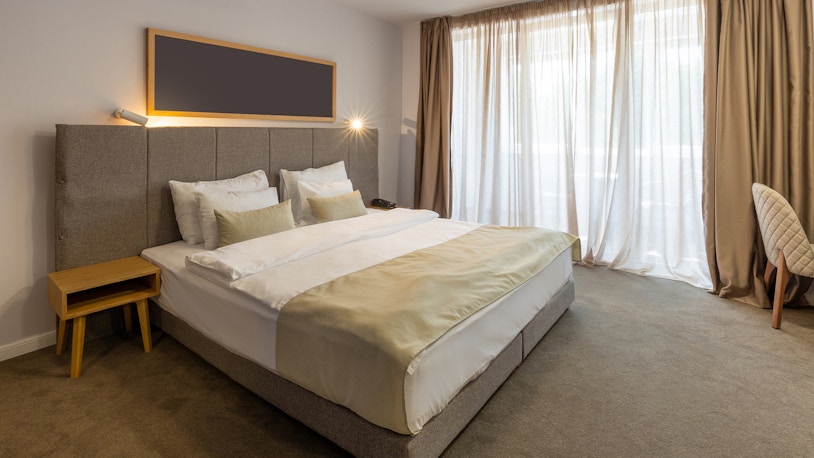 New York has several accommodation options for all kinds of budgets. From luxury hotels and resorts to budget-friendly hostels, there is something for everyone in the city.
Budget Hotels: American Dream Hostel, Hotel Mulberry, Roger Smith Hotel
Mid-Range Hotels: The Manhattan at Times Square Hotel, Freehand New York, Hilton Garden Inn Ridgefield Park
Luxury Hotels: The Standard, The Kimberly Hotel, Archer Hotel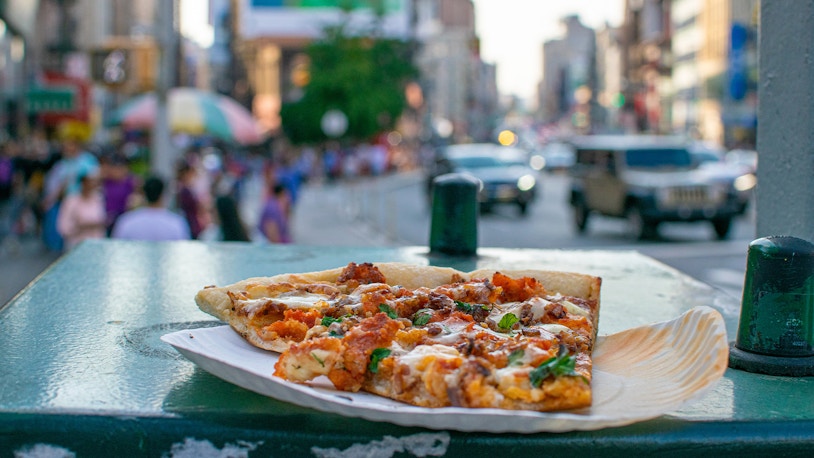 New York boasts a diverse culinary scene with cuisines that satisfy everyone's tastes and preferences. There are several amazing restaurants serving the best food from across the world.
Lombardi's Pizza: Serving since 1905, Lombardi's is the place to head to for coal-fired, thin-crust Neapolitan pizza.
Absolute Bagels: Gorge on hand-rolled, homemade bagels along with spreads and other toppings at this joint.
Bareburger: Head to this place for all kinds of greasy cheeseburgers - from gourmet to artisanal.
Totto Ramen: Known for its rich chicken-based broth and tender char siu, Totto Ramen is a must-visit for all Asian food lovers.
Veniero's Pasticceria & Cafe: This Italian cafe and bakery is famous for its delicious ricotta cheesecake and rightly so!
Explore New York Through The Year
Frequently Asked Questions About Visiting New York in April
Is April a good time to visit New York?
Yes. April is a shoulder month, which means fewer tourists, shorter lines at attractions, and potentially lower accommodation rates.
What are the best things to do in New York in April?
Enjoy the beauty of cherry blossoms at the Brooklyn Botanic Garden, attend the Tribeca Film Festival for diverse cinema, explore Central Park as spring blooms, and visit iconic attractions like the Empire State Building and Statue of Liberty. Take a stroll in Times Square and catch a Broadway show.
Is New York cold in April?
In April, New York is not as cold as the winter months but temperatures may fall, especially in the first couple of weeks.
How hot is New York in April?
The month of April marks the onset of the spring season in New York. The city experiences warm and sunny days with light rainfall. 
Can you swim in New York in April?
No. In April, the water is too cold for swimming unless you have a wetsuit.
Is it sunny in New York in April?
Yes. The weather in New York is mostly sunny during April.
What clothes to wear in New York in April?
Carry warm clothes like sweaters and scarves as it can get cold at night. Wear comfortable shoes and clothing so that you can roam around freely.
Is it rainy in New York in April?
The city experiences a few days of rainfall in April.
Is New York expensive to visit?
New York is one of the most expensive cities to visit but March is a shoulder season for tourism, which means accommodations and attractions are slightly cheaper to book.
New York is pretty much safe. However, avoid going to deserted areas alone at night and watch out for pickpockets in busy streets.
What can I see in New York in April?
You can visit the Museum of Metropolitan Art, Guggenheim Museum, The Morgan Library & Museum Central Park, the New York Public Library, Summit One Vanderbilt Observation Deck, and Times Square, to name a few.
What are the major events in New York in April?
A few major events held in April include the Tribeca Film Festival, New York International Music Festival, Sakura Matsuri Cherry Blossom Festival, and The Easter Parade.
What is the average temperature in New York in April?
In March, the temperature usually ranges from 5°C to 18°C.
What are the best things to do with kids in New York in April?
Take your kids to the American Museum of Natural History, the Bronx Zoo, Governor's Island, New York Aquarium, Children's Museum of the Arts, and Lincoln Center. Take them to Central Park for roller blading or make them watch a puppet show or a Broadway show for kids.